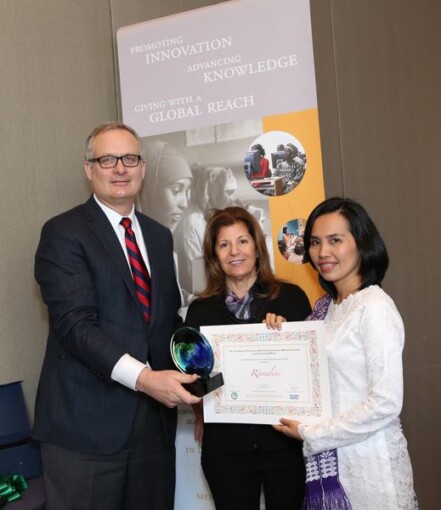 YOGYAKARTA – An Industrial Engineering student of UGM, Andy Aulia Prahardika, has earned an award in the World Inventor Award Festival hosted by Korea Invention News (KINEWS) in Seoul, South Korea. The event that attracted some 350 academics and industry from 30 countries, including Indonesia, displays research findings and products.
In the Festival, Andy earned the World Inventor Order of Merit, Traffic and Transportation Order of Merit for his works in research, exhibition, publication and contribution to society in the form of flood sensors installed on the tarmac to support aviation safety.
Andy said his research in the flood sensor on the tarmac was done in three years at Ahmad Yani international airport in Semarang, producing recommendations for early warning system in real time on the tarmac that will automatically support the aviation safety system and airport authorities safety. "The sensor would work when there is a pool of water on the tarmac, automatically the sensor would send the early warning signs," said the man born in Semarang 18 years ago on Monday (3/3).
The sensor will send signals to Air Traffic Control (ATC) who will then inform pilots, thus minimising accidents. "But obviously, giving only early warning does not solve the problem of water puddle, so at the same time the signal will automatically turn on the water pump to clear the tarmac from water," he said.
Andy revealed that the water pump can work automatically without the manual work of ground staff. The sensor focuses on certain tarmac, namely the touchdown zone as this is where the plane will first touch down.
Researching since high school
Andy said he had started the research since he was at high school in SMANegeri 3 Semarang. He continued this when he became a student of UGM Faculty of Engineering. He has produced six other researches in social and technology sciences.
His interest in flood sensors on the tarmac stemmed from the problems at the airport during the rainy season. "Water puddle on the tarmac may endanger the planes, especially during landing." Such condition can make the plane tyres skid, causing accidents. "I have observed and designed the system since 2010," he said.
Andy hoped this research would help overcome problems found in airport traffic and transportation and optimise airport traffic.