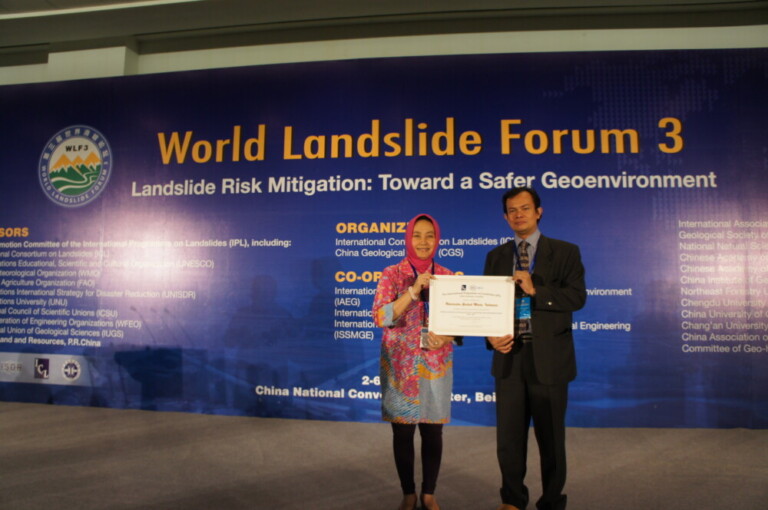 YOGYAKARTA – Universitas Gadjah Mada is named World Center of Excellence on Landslide Disaster Risk Reduction for the period of 2014 – 2017 by the UNESCO and United Nation International Strategy on Disaster Reduction (UN-ISDR) and International Program on Landslides (IPL), presented by UNESCO Directorate General on 3 June 2014 in China National Convention Center, Beijing. This ranks UGM among 15 Centers of Excellence on Landslide Disaster Risk Reduction . "UGM is one of the three biggest among those 15 centers along with Italy dan Japan," said UGM researcher, Prof. Ir. Dwikorita Karnawati, M.Sc., Ph.D., and Teuku Faisal Fathani, M.T., Ph.D., to journalists on Tuesday (17/6). Both are the makers of the landslide detection tool.
According to Rita, the appointment of UGM as one of Centers of Excellence had passed a tight selection that involved an independent panel of experts from the UNESCO and International Strategy for Disaster Reduction, based on program innovations and use of science and technology for society. Rita said the experts agreed that UGM had succeeded in developing technology based on local wisdom and it was further developed for industry demands.
Dwikorita said the research commenced in 2004, producing 5 patents and publications in international journals, as well as 3 Doctors, 10 masters, and 10 graduates. Field test has been done since 2008 through student community service in landslide-prone areas in East Java (Situbondo), Central Java (Karanganyar, Banjarnegara, Boyolali, and Cilacap), West Java (Ciwidey, Kamojang, Karaha Bodas), and West Sumatera (Nagari Tandikat and Nagari Tanjung Sani), involving students from UGM, Universitas Andalas, Montpellier France, Kyoto University, Japan, and San Diego State University, USA.
Beginning 2009, it was developed manually real and real-time for applied industry, including for PT Arutmin in Kalimantan, PT INCO Sorowako in Sulawesi, United Mercury Myanmar and geothermal resources of PT Pertamina Geothermal Energy in West Java, South Sumatera, Bengkulu, Lampung, Jambi, West Sumatera, North Sumatera, and North Sulawesi Utara.
Faisal Fathani said they were still developing the technology in cooperation with Asia Pacific Disaster Risk Reduction and Resilience (APDR3), University of Hawaii and Asia Pacific Disaster Center (APDC). "The technology development is done to integrate monitoring system and early detection at the local level with the national and regional system in South East Asia and Asia Pacific region," he concluded.