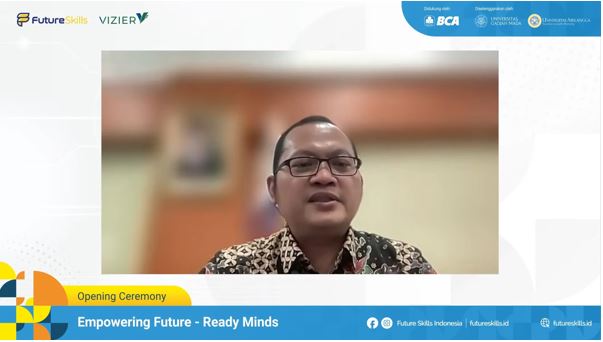 The collaborative program 'Future Skills' between Universitas Gadjah Mada (the Faculty of Social and Political Sciences), Airlangga University, and Future Skills (Pijar Foundation) has entered the eighth batch and begun its semester of academic activities.
Future Skills Batch 8 received 6,951 applicants from all over Indonesia this semester. 
The program includes 29 national partners who have joined to share knowledge with participants, including GNFI, GoTo, Rumah Millennials, Jaringan Gusdurian, AIESEC, APP Sinarmas, and others.
On September 15, 2023, the Future Skills Batch 8 opening program was held as the inaugural class. The event was hosted by Fumina, an AI MC, and attended by all accepted participants and some interested public members.
The event was lively, with a masterclass concept followed by an onboarding program led by Eva Nurwita, CEO and co-founder of Vizier, who discussed the topic of Empowering Future-Ready Minds. 
This was followed by Dr. Nurhadi Susanto, Vice Dean for Finance, Assets, and HR of the UGM Faculty of Social and Political Sciences, and Professor Rossanto Dwi Handoyo, Head of the Department of Economics, Faculty of Economics and Business at Airlangga University, and representatives of participating lecturers from both universities.
Dr. Nurhadi Susanto explained that this collaboration program, ongoing since the first batch in 2020, will enhance the younger generation's job readiness skills. These young minds are prepared to compete with dozens of increasingly competitive global competitors.
"The concept of higher education as a means of equalizing education for the younger generation is that this program can be accessed for free for a full semester with partner organizations and national-level practitioners," said Dr. Susanto at UGM on Monday (October 2).
The UGM vice dean mentioned that the interesting aspect of this batch is that Airlangga University had joined UGM to organize the classes.
"Of course, for UGM students, this program can be converted into credits through the Recognition of Prior Learning (RPL)," he explained.
Author: Agung Nugroho