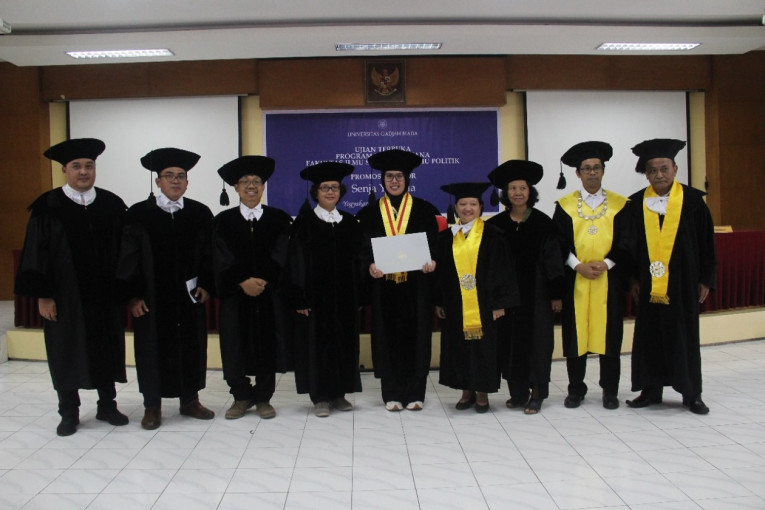 Disruptions in communication media have led to changes in the media system. The media ideally should play a role as a conveyer of discourse within society.
However, what is happening now is that the media tends to follow the emerging topics in society, even influencing the media's independence. 
One discourse not widely discussed by the media is the issue of human rights (HR). Nevertheless, this issue requires more attention because it relates to the growth of HR realities in Indonesia.
Through her dissertation, Senja Yustitia has researched the development of the media system in presenting information about HR.
"Until now, Human Rights (HR) has only been used as a backdrop for events. This research shows the framework's evolution, consistency, and development of HR," the Ph.D. candidate at the UGM Faculty of Social and Political Sciences said.
"This research places HR as a significant site. Furthermore, it doesn't just emphasize journalists but also how the media grows and adapts to the existing environment."
The media's role as a shaper of societal reality is essential for sorting information and increasing the urgency of specific issues. Discussions about HR began to gain traction in the early days of reform. 
Unfortunately, according to Yustitia, the HR issue has gradually disappeared from public discourse because the media no longer presents it as intensive information. 
Even in the lead-up to the 2024 elections, HR is not a prioritized topic of discussion for the public compared to issues of welfare and the economy.
"I think we need to emphasize that media, in general, should be able to summon many voices and new concerns. Many fundamental HR issues have never received much attention in the media," she said.
"This is quite dangerous because we all know that HR is discussed cautiously and is not widely opened. After all, it is considered too liberal, disruptive, etc."
This research analyzed 241 news articles from media outlets released from 1998 to 2019. The results show patterns of consistency and news framing built by the media over the years.
The most common frame regarding HR is the frame of responsibility for specific parties regarding HR violations and the mandates and ideals of reform. HR discussions intensify when they are linked to unresolved HR violation events. 
However, discussions about HR in a broader sense have occurred infrequently. Yustitia also revealed that HR discussions in the media have experienced stagnation several times, with a lack of media initiative to introduce novelty.
"The emerging discourses often argue that human rights must be balanced with responsibility, tolerance, or harmonization. When such discourse arises, there is great concern within. This discourse indirectly polarizes critical people on this matter," Yustitia added.
"Therefore, the media should then take up the mantle to provide balanced discourse so that these communication topics live among us."
Author: Tasya