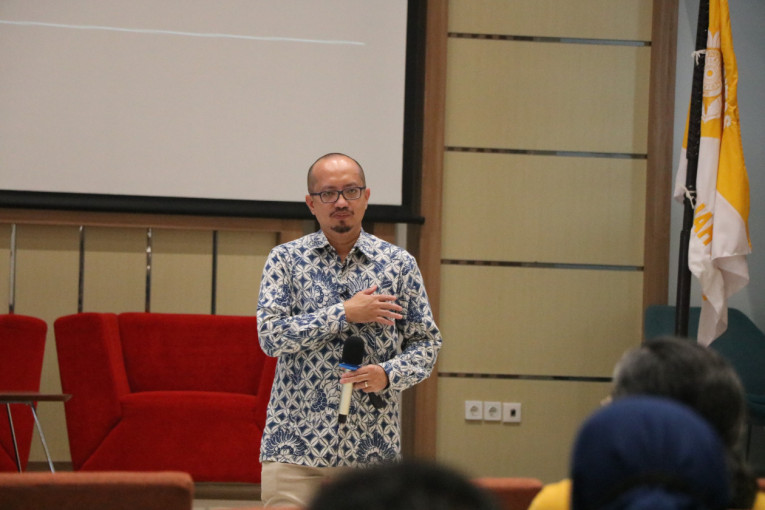 The need for artificial intelligence (AI) in higher education is growing. Institutions are judged ineffective without AI; hence, it is considered foundational technology that must be used.
"With AI, people will learn and conduct research more efficiently. Without AI, outputs will likely be slower and of lower quality," said Andrias Ekoyuwono, Chief of Corporate Strategy at kumparan.com, at the UGM Faculty of Mathematics and Natural Sciences on Friday (September 29).
As a speaker in the Literacy, Culture, and Skill Capacity Development Program to Support the Digital Transformation at Universitas Gadjah Mada, Andrias Ekoyuwono presented material on utilizing AI in the university ecosystem. 
This includes teaching, research, administrative management, and all other needs.
He emphasized that AI can be utilized in every aspect of the university to streamline repetitive tasks. This allows all stakeholders in the university to focus on tasks that can generate better outputs.
"Faculty members, students, and non-teaching staff can all utilize AI. They can use AI to create more engaging and personalized learning systems tailored to their individual needs," he said.
Therefore, he hopes that all universities, including UGM, can adopt AI according to their needs to make campuses even better. 
However, he also emphasized that AI has ethical boundaries and other considerations that need to be taken into account so that AI values can align with university values.
With AI, the landscape of academic research becomes vast and open. Various platforms supported by AI make the path to discovery better, more transparent, and easier to manage. 
For example, Semantic Scholar accelerates literature searches and makes academic investigations more efficient.
"When we enter an era of education equipped with AI and management, the challenge lies in integrating innovation with the fundamental values held by the university," he explained.
Author: Agung Nugroho