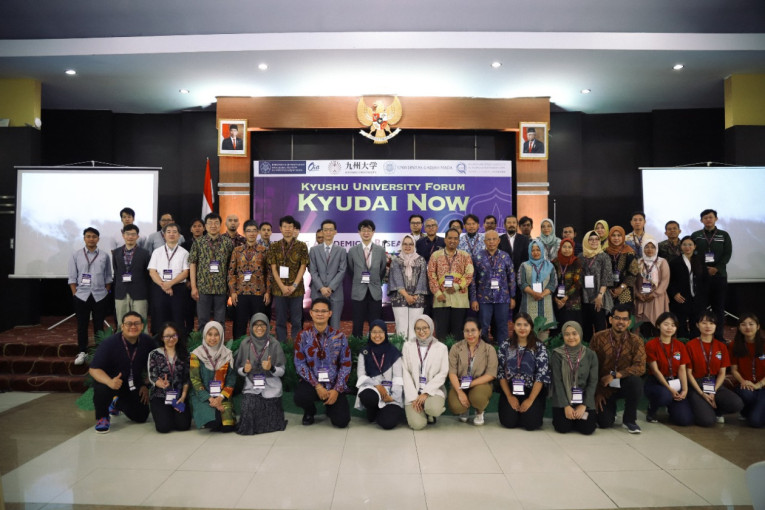 Kyushu University has bilateral agreements with several Indonesian universities, including Universitas Indonesia, Universitas Gadjah Mada (UGM), and Bandung Institute of Technology, for academic cooperation, joint research programs, and staff and student exchange programs.
Collaboration between Kyushu University and Indonesian universities focuses on various academic disciplines, such as engineering, agriculture, forestry, geography, mathematics, natural sciences, arts, design, medicine, dentistry, chemistry, applied chemistry, social and cultural studies, architecture, urban design, law, and more.
"Kyushu University has collaborated with researchers from 50 institutions, resulting in a total of 624 co-authored publications from 2011 to 2020," said Professor Akira Harata, Senior Vice President of Kyushu University, during the Kyushu University Forum "Kyudai Now" at UGM on Tuesday, August 29.
Professor Harata emphasized the strong collaboration between Kyushu University and Indonesian universities, highlighting further opportunities to expand cooperation. 
His visit to UGM thus aims to encourage academic communities at UGM and nearby institutions to collaborate in education and research.
Dr. Wiratni Budhijanto, Secretary of the UGM Directorate of Partnerships and Global Relations, expressed her appreciation for Kyudai Now. She noted that this event allowed for in-person interactions following a period of virtual engagement.
"This is a forum to reinitiate direct interactions among UGM and Kyushu University scientists," she said.
Dr. Budhijanto mentioned that Japanese researchers provided best practices for managing the Code River community. They sent a team with simple technology that addressed the local community's needs around the Code River.
"With a team and technology for assessment, we improved the management of the Code River. Involving researchers and students and applying technology enabled us to develop the Code River for the benefit of the community," she said.
The community benefited through education and research support, creating a more attractive city that attracts tourists. Additionally, Malioboro looks even more beautiful and culturally rich, with the Code River just one km away.
The secretary added that Indonesia is a "disaster supermarket," meaning various disasters can occur here. As an archipelagic nation rich in natural resources, Indonesia is highly vulnerable to disasters.
"Therefore, the people are accustomed to its unique natural conditions, which is why UGM, founded in 1949, has always sought solutions to the problems faced by our nation," she concluded.
Author: Agung Nugroho
Photographer: Donnie