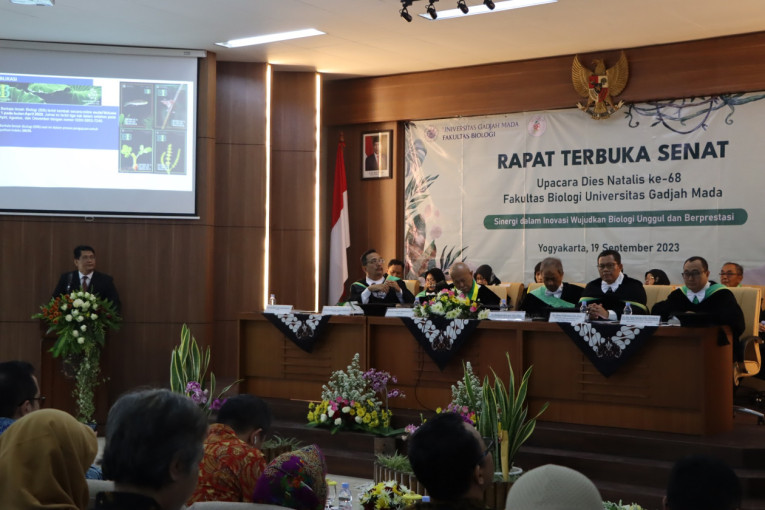 Indonesia boasts the world's most extensive marine biodiversity and is recognized for having two biodiversity hotspots: Sundaland and Wallacea. 
These regions are rich in abundant endemic species but face a high risk of extinction due to anthropogenic activities and climate change. 
"The numerous cases threatening biodiversity in Indonesia certainly require further efforts to prevent anthropogenic activities," said the Dean of the UGM Faculty of Biology, Professor Budi Setiadi Daryono, during the 68th-anniversary celebration of his faculty.
According to the dean, Indonesia's vast biodiversity is a valuable resource for scientific exploration and the welfare of humanity. However, it must be accompanied by sustainable conservation and comprehensive, accurate, and valid data collection.
Professor Daryono mentioned that metaverse technology, open science, big data analytics, bioinformatics, biotechnology, and AI can contribute to managing, utilizing, and preserving biological resources.
In education, he noted that the metaverse could become a learning and research medium in biology, especially appealing to Gen Z. 
"Integrating metaverse and biological learning can transform biology into an essential scientific discipline crucial for studying and exploring future biology, such as deep-sea and exobiology, facilitated by the rapid development of big analytics and bioinformatics related to current biodiversity," he said.
Furthermore, AI technology can be applied to environmental planning, decision-making, and automated management algorithms to maintain ecosystem quality. 
AI can also play a role in wildlife conservation, including monitoring ecosystem health, reducing contact with wildlife, and preventing conflicts with local communities through monitoring and automating information management.
In concluding remarks, Dean Budi Daryono emphasized the Faculty of Biology's role and responsibility in preserving Indonesia's biodiversity through education, research, and community service. 
"For 68 years of existence, the Faculty of Biology has grown and has provided its benefits to society, the nation, and the world," he said.
He added that the faculty will continue to strive to become a faculty with internationally renowned study programs as a center for education, research, and community service in the field of biology, especially tropical biology, oriented towards the national interest and based on Pancasila.
Author: Gusti Grehenson