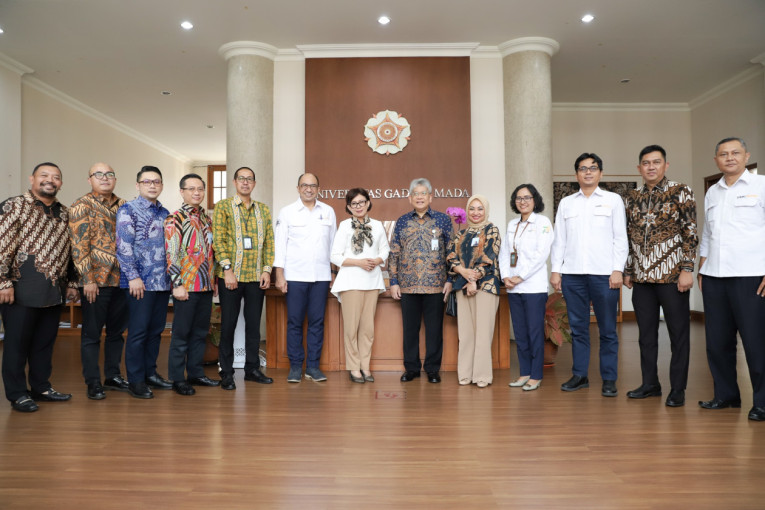 The Rector of UGM, Professor Ova Emilia, and the President Director of Bank Pembangunan Daerah Jawa Barat dan Banten, Yuddy Renaldi, signed a cooperation agreement in the fields of education, research, and community service on Monday (19/6). 
In addition to supporting the primary duties of both parties, the collaboration between UGM and Bank BJB is to provide banking facilities in education, research, and community service (Tridarma) of higher education institutions.
"On behalf of Bank BJB, I would like to express our utmost gratitude for this collaboration, which has long been pursued by Bank BJB and UGM, especially with the Rectorate. We thank UGM for the trust given to us," said Yuddy Renaldi.
Bank BJB is a Regional Development Bank known as Bank Jabar before the separation of West Java and Banten. After the restructuring of the West Java and Banten governments, the bank's name changed to Bank Jawa Barat and Banten.
In 2010, Bank BJB conducted an IPO, making it the first regional bank to hold an IPO. This effort was to drive Bank BJB to cover more areas nationally, as the change in name no longer associates it solely with the Sundanese people.
"We, together with our predecessors, had the vision to make Bank BJB a regional bank with a national outlook. Currently, we have branches in 14 locations, from the westernmost point in Medan to the easternmost point in Makassar," said Renaldi.
"In Papua and several islands, we are represented by People's Credit Banks (BPR) that we fund as we have not yet seen the potential to grow as a regional bank there."
Having obtained information on the FSA's initiative to merge several Regional Banks into a Bank Business Group, Bank BJB is trying to be the initiator and act as the holding company. This is being pursued together with the government of Bengkulu Province.
Together with the Bengkulu Provincial Government, Bank BJB initiated cooperation and became the controlling shareholder, particularly for Bank BPD Bengkulu. Bank BJB aims to be the second-largest shareholder after the Bengkulu Provincial Government.
"We are there to synergize businesses, especially in helping Bank BPD Bengkulu to have more products similar to national banks. We hope this can serve as an example for other Regional Banks," he said.
"Hopefully, shortly, the Business Group or holding company initiated by Bank BJB can form a bank business group with other Regional Banks."
Yuddy Renaldi stated that Bank BJB is currently initiating collaborations with several other Regional Banks, with Bank BJB continuing to act as the holding company. Some of these initiatives are being carried out with Bank Sultra, Bank Maluku Utara, etc.
Furthermore, Bank BJB also offers collaborative products such as BJB Syariah and BJB Securitas. This is being done because several regions in Indonesia are also initiating the merger of several Regional Islamic Banks and, together with the Indonesian Stock Exchange, establishing securities companies.
"In addition to that, we are also asked to support the operational economy of the communities in West Java and Banten, and throughout Indonesia, to support the empowerment of the existing economy," he said.
Professor Ova Emilia expressed gratitude for the trust Bank BJB gave to UGM. The expansion from West Java and Banten to Yogyakarta is expected to bring a positive atmosphere for better performance.
"Of course, the collaboration between UGM and Bank BJB can be further developed. It is not only limited to what is written in the agreement but also, for example, in developing SMEs. I think that is something we appreciate and a great opportunity for us all," said the Rector.
Ova stated that UGM students participate in the National Student Scientific Week every year; this year, 282 UGM student proposals have been selected. The ideas presented by students need to be assessed in terms of practical application and the possibility of translation. This is undoubtedly an advantage and an opportunity for UGM and Bank BJB collaboration.
"It will benefit not only one or two parties but the entire nation. UGM's strong alumni network is a great investment, so we hope for collaboration in the development of SMEs involving alumni, not only here but also abroad," she added.
Author: Agung Nugroho
Photographer: Donnie