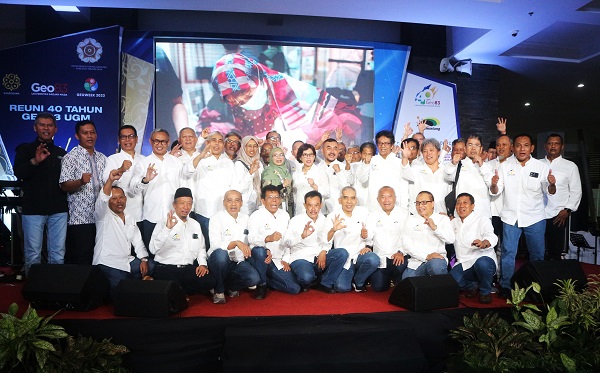 The UGM Geological Engineering Alumni from the Class of 1983 (Geo83) held a reunion, emphasizing the spirit of togetherness and unity. 
The reunion occurred on Saturday evening (September 30) at the Smart Green Learning Center (SGLC) at the Faculty of Engineering, Universitas Gadjah Mada. 
The Geo83 reunion activities included Geo83 Goes to Campus, social service, a fun run, a meeting with senior lecturers, a book launch, a photo exhibition, and a community party in the evening.
Professor Ova Emilia, MD, the Rector of Universitas Gadjah Mada, who attended the reunion, stated that the social service activities in the form of free cleft lip surgeries, as well as the installation of prostheses for eyes, teeth, and noses, greatly benefited the community.
Professor Emilia also expressed her gratitude because the alums came from various companies and provided internship opportunities for undergraduate students in their companies. 
"On behalf of Universitas Gadjah Mada, I express my gratitude for all the work and cooperation over the years," said Rector Emilia.
One of the Geo83 members, Adi Maryono, who played a crucial role in organizing the reunion, explained that this year's reunion theme was "Spirit of Service." 
This theme is expected to instill a spirit of togetherness, unity, and a commitment to having a positive impact. 
"We follow the principle of 'guyub' (coming together), 'gayeng' (bringing joy to people), and 'ginanjar' (providing benefits to others)," said Adi Maryono.
Maryono further explained that the Geo83 Goes to Campus event invited alums to give guest lectures or share their knowledge in seven cities at 15 universities. 
"Geo83 members are active in various fields, such as oil and gas, mining, entrepreneurship, and more. Some non-geology-related professions include journalists, service company workers, geothermal experts, lecturers, and more," said Maryono.
"We all collaborate and come together to provide guest lectures."
Anif Punto Utomo, the Chair of Geo83, added that this series of activities was carried out in collaboration with various parties, including Kageogama, Kakgigama, the UGM Faculty of Medicine Alumni from the Class of 1983, SM IAGI, MGEI, Selow Run, and Musang Running Team. 
"The involvement of various parties aims to foster collaboration and synergy for the greater good," said Utomo.
Author: Gusti Grehenson