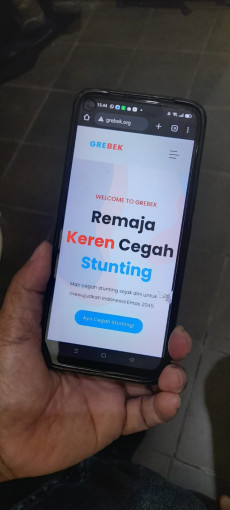 Adhitya Latif Prahesta, a Public Sector Accounting student at UGM Vocational College, has created a website to support the acceleration of stunting reduction, called grebek.org.
Prahesta stated in a written statement that the website was developed to make it easier for young people to access information about stunting and its prevention. 
"I realize that young people absorb information more easily from media they enjoy, including online media. I hope this website can provide some insight to young people about stunting prevention," said the Ambassador for Generation with Plans of Indonesia (Duta GenRe) on Friday (23/6).
The website created by Prahesta contains information about stunting presented in an attractive and easy-to-understand manner. It provides general information about stunting, its causes, dangers, prevention methods, and information about reproductive health and others.
Prahesta emphasized that the dangers of stunting are grave, requiring the collaboration of various parties in addressing it.
"Hopefully, this website can support the prevention of stunting in Indonesia," he concluded.
Author: Ika