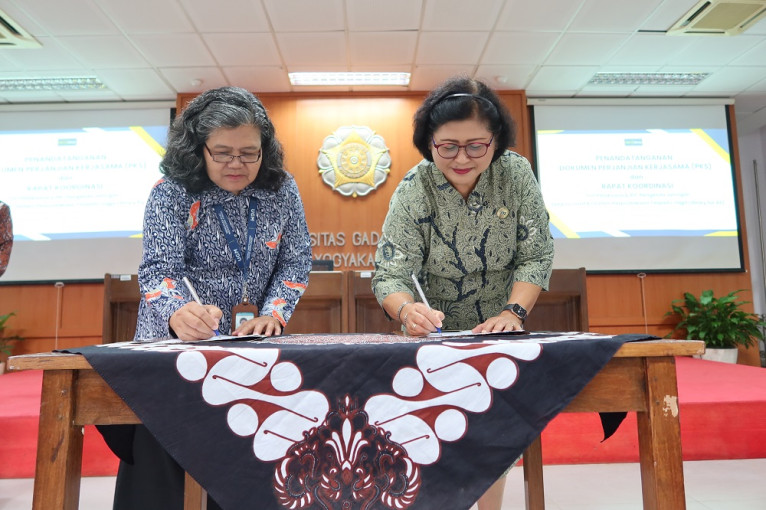 UGM Library is reinforcing collaboration for the development and utilization of the Integrated Library System "Jogja Library for All (Sepatu Jolifa)" with the Yogyakarta Library and Archives, along with several universities/higher education institutions in the region.
This collaboration is realized through a memorandum of understanding signed between every party involved. 
The seven higher education institutions include the Indonesian Institute of the Arts in Yogyakarta, Yogyakarta State University, Islamic University of Indonesia, Sanata Dharma University, UIN Sunan Kalijaga, UPN Veteran Yogyakarta, and the Integrated Islamic Religious College. 
The MOU signing ceremony occurred on Tuesday (September 19) at the UGM Library.
Head of UGM Library, Nawang Purwanti, mentioned that Jogja Library for All has been developed since 2005 to facilitate public access to information from all libraries in the Special Region of Yogyakarta. 
"UGM Library continues to strive to improve facilities and collaborations to ensure that library resources can be accessed effectively," she explained.
Head of the Yogyakarta Library and Archives, Monika Nur Lastiyani, welcomed the MoU signing for developing and utilizing Sepatu Jolifa. 
This system is a collaborative network of information technology-based libraries that emphasizes sharing in utilizing library collections. So far, 42 libraries in Yogyakarta, including public libraries, university libraries, and school libraries, have joined Sepatu Jolifa.
"Sepatu Jolifa, formerly Jogja Library for All, has been rebranded. Currently, 42 members collaborate, including interlibrary loans," she said.
Lastiyani explained that this collaboration is a commitment and an opportunity to accelerate the development and utilization of Jogja Library for All. Thus, it is hoped to provide even greater benefits to the public. 
She also requested support from universities and schools in Yogyakarta to help promote this system so that its benefits can reach an even wider audience.
Author: Ika