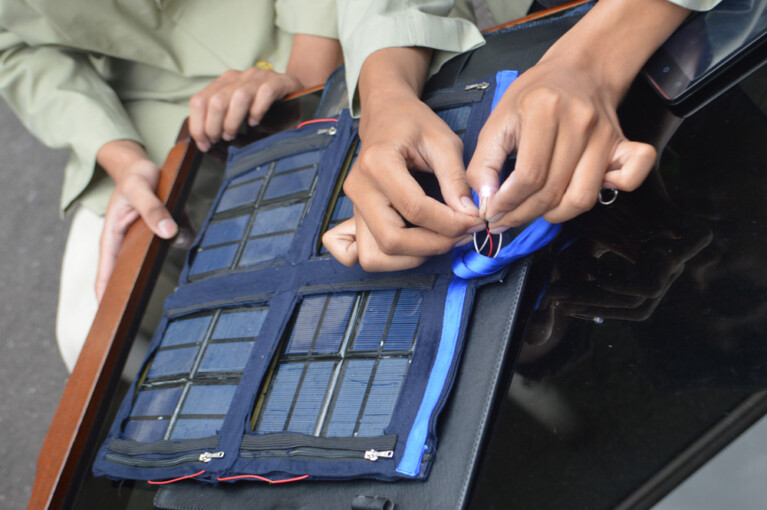 When travelling, it is often difficult for people to get power due to the unavailability of or limited facilities of power supplies. For nature enthusiasts, the lack of power in their destination will limit uses of electronic devices.

Concerned with this condition, five UGM students have developed a tool that can help travellers on-the-go meet their power requirements at any time.
Bagas Antiko R.M. , Ayrton Fithiadi Sedjati , Paksi Yudha Sasmita, and Enggar Yudha Prasetyo, Physics Engineering students, and M.Fatkhu Rizal S.F. from Faculty of Philosophy, have assembled a portable solar puzzle which is environmentally friendly.
"Many travellers or nature enthusiasts often complain due to the limited power supplies when they are travelling, which limit the use of their electronic devices," said Bagas on Wednesday (10/6) to journalists in the Fortakgama Room at UGM.
"Actually, there are many solar panels available in the market, but they are imported so they're relatively expensive at around IDR1.7 millions," he said.
The prototype they made is more affordable, which cost them only 500 thousands in production. They used local components: 4 units of foldable solar panel sized 13×13 cm, 1 mm circuit cable, cable, USB, and copper, as well as regulator to stabilise the voltage.
The tool can store up to 5 Volts electric current. During broad day light, it can produce up to 0,9 Ampere. "The capacity of internal memory is 5.500 mAh that can charge a mobile phone set in two hours," said Enggar. It is also a DIY-tool that can be repaired or changed by users should it gets broken.
The innovation started in February 2015 for the Student Creativity Programme 2015 under the supervision of lecturer Dr. Ahmad Agus Setiawan, S.T.,M.Sc. The students are currently applying for a patent.