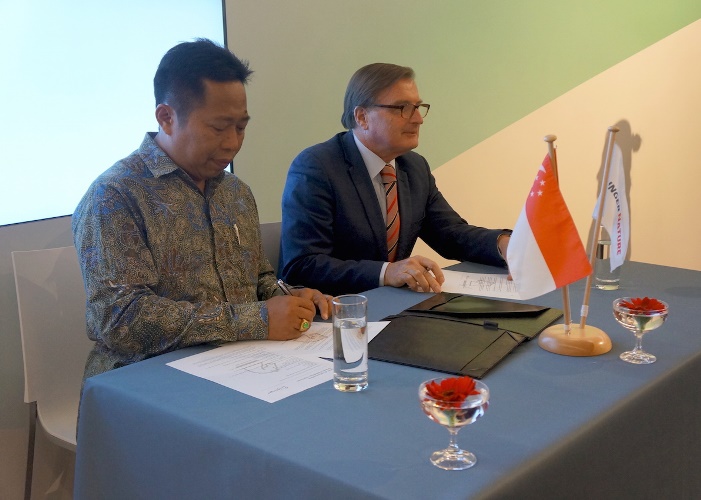 UGM Press and Springer Nature have established a cooperation during the Frankfürt Book Fair 2015 on Thursday (15/10) for a co-publishing of several books published by UGM Press. The agreement was signed by Head of Publishers and Publication of UGM, Prof. Dr. Harno Dwi Pranowo, and Managing Director of Springer Research Group, Dr Heinz Weinheimer.
"The collaboration is expected to open opportunities for UGM Press writers to produce writings on Indonesian issues that can inspire the world," said Harno in a press release.
Harno said Springer Nature would publish the English version of 6 books related to specific issues in Indonesia, such as rural sociology, performing arts in the globalisation era, continuity and changes in dance-drama, Islamic inheritance law in Indonesia, and effects of Tambora volcanic eruptions.
Head of Publishing and Printing of UGM Press, Dr. Muhammad Agung Bramantya, said the cooperation between UGM Press and Springer Nature would help increase international understanding on Indonesia.
"This cooperation can also boost dialogue and collaborations between international and Indonesian academics," said Agung.
UGM Press is one of Indonesian publishers joining the renown Frankfürt Book Fair. According to secretary of UGM Press, Dr. Mutiah Amini, many visitors came to the UGM Press booth. Partnership eventually emerged out of the visits, including with Cambridge University Press, NUS Press Singapore and some international distributors.
On the other hand, Dr Heinz Weinheimer, said scientific research and study on specific issues of Indonesia would contribute to the settlement of world problems. "We're assured that this is the first step in a long, beneficial, collaboration," said Weinheimer.
In the Frankfürt Book Fair this year, Indonesia is Guest of Honour.
Education and Culture Minister, Anies Baswedan, in his opening remarks said the Book Fair was a prestigious forum for Indonesia to be known internationally whilst getting opportunities for cooperations with European community.