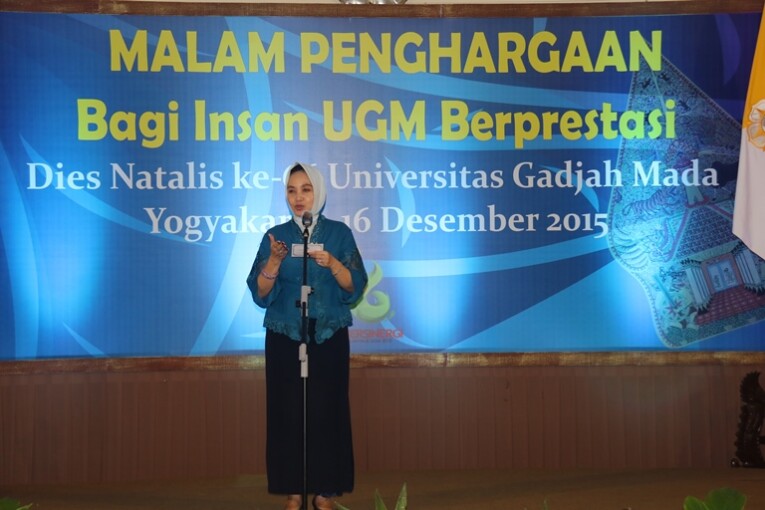 UGM continues to appreciate achievements that come from students, staff, faculty members and alumni. Appreciation is delivered in the form of Award for Outstanding People, conducted on Wednesday (16/12) at UGM Senate Hall. In that occasion, 160 people were elected to receive the award that were divided into 10 categories.
In her speech, the Rector, Prof. Ir. Dwikorita Karnawati, said the purpose of this event is an appreciation of achievements and accomplishments that were achieved in the academic community and alumni of UGM.
"It is hard to determine the recipients of the award because all of the UGM alumni, students, staff, and faculty members are the best," said Rector.
Meanwhile, Chairman of the Committee of 66th UGM Anniversary, Prof. Dr. Ir. Ali Agus, DAA., DEA , said the process of determining the award recipients has been through several criteria. Therefore, ten categories were formulated in which category was either on national or international level. Ten categories included categories of student achievement, student competitions on international level, student for winning national record museum, national student competition, best employee on university level, best employee of national level , outstanding lecturers, researchers achievement, and inspiring alumnus and outstanding e-learning category.
"It is not easy to determine them, many accomplishments have been achieved by students and lecturers. This year we also gave appreciation to the alumni who have been giving their contribution to Indonesia. Selection of the alumni is also not easy to do because UGM alumni were scattered all over Indonesia and with many achievements," said Ali Agus.
Rizaldi, one of award recipients, expressed his gratitude to UGM that appreciates the achievements of the students. As the award recipient for Porsenigama event, Rizaldi hopes the appreciation event for outstanding students continue to be held to motivate the spirit of the students. "With events like this, many UGM students will be encouraged to get better achievement at UGM, also nationally and internationally.