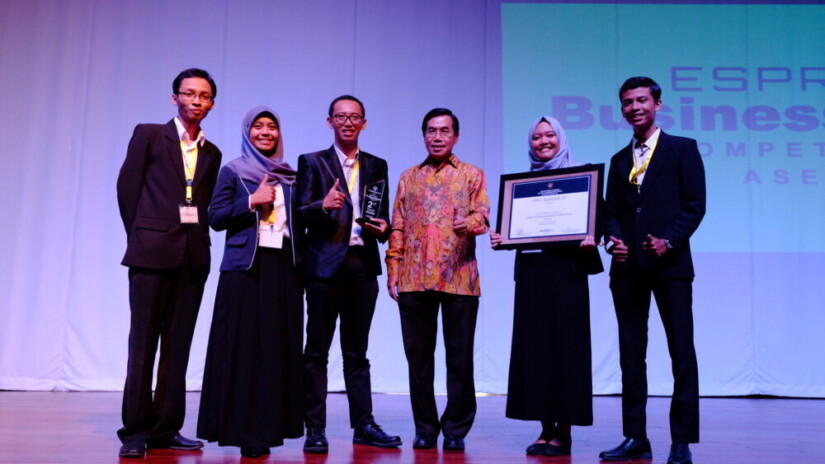 Five Universitas Gadjah Mada students joining Legend team have won First Runner Up in thes business model competition at ASEAN level, Espriex 2016, held at Universitas Brawijaya in Malang, East Java, from 22-23 February. The Industrial Engineering students are Nissa Amelia Pahlevy, Bagus Avianto Putra Perdana, Nindya Dini Pangestika, and Fury Oktria Putra, and one Faculty of Medicine student, Irfan Haris.
Of the 225 teams, the Legend team has been one of 30 best teams invited to present their business model at Universitas Brawijaya. After going trhough three selections, mentoring session, first round, and second round, the Legend became the only Indonesian team to go through to the Final Round along with Readpublic team from University of Malaya that became the third winner, and Toolkids team from University Technology Malaysia that won the first place.
The Legend team came up with a business idea in the form of paid application for pregnant mothers, named Prelite, Your Pregnancy Partner. Prelite is a smartphone application with features to monitor the health of the pregnant mothers. This app follows the path of previous model in providing features such as Medical Records of Expecting Mothers equipped with additional features such as medical report, reminder, online library, online consultation, also food and drink provision facility according to the need of expecting mothers. The Legend team was guided by dr. Muhammad Nurhadi Rahman, Sp. OG, lecturer in Obstetric and Gynecology department, Faculty of Medicine UGM, also obstretician at dr. Sardjito Yogyakarta General Hospital.
The app is currently in its prototype beta format. They want to develop it further to make it as an Electronic Medical Report like those already available in developed countries. Thus, the health of the mothers can be monitored since the early pregnancy until delivery, even to monitor the health of the baby after they have been born. The team hoped to be able to launch the app soon in Google Play.
During the Espriex 2016, Universitas Brawijaya in cooperation with International Business Model Competition also worked with three other universities, which are BYU, Harvard University, and Stanford University. Winners of Espriex 2016 will represent ASEAN in the International Business Model Competition at Harvard in April.