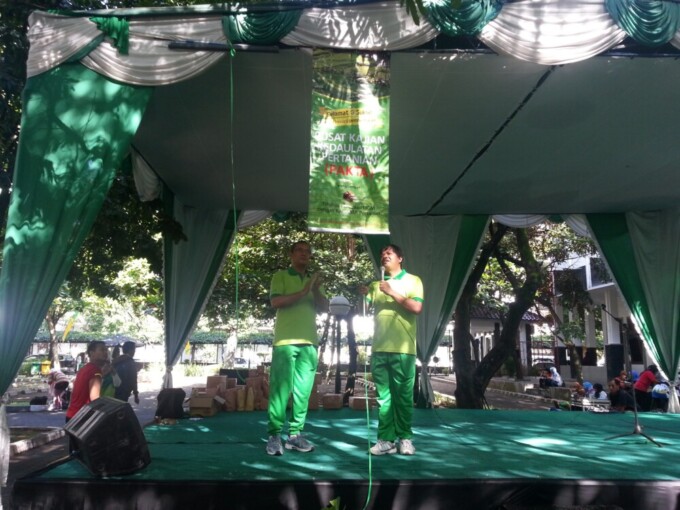 UGM's Faculty of Agriculture launched Agriculture Policy Centre of Studies (PAKTA)to increase agriculture development and support food sovereignty in Indonesia. PAKTA was launched by Faculty Dean, Dr. Jamhari, S.P., M.P., in the opening of event that marks the70th anniversary of the Faculty on Friday (18/3).
" PAKTA is an institute to correct existing policy, if needed," said Jamhari.
According to Jamhari,PAKTA was expected to produce ideas and concepts coming from UGM to be submitted to government. PAKTA aims at sovereignty in food and agriculture that also prospers farmers.
"The concept of food sovereignty is not only to meet food sufficiency, but also farmer's welfare. We want to achieve both by mobilising our food potential," he said.
He further inaugurated the AEP (Agroenterpreunership Education Program), an entrepreneurial programme. Many socio-enterpreunership is expected to produce at the Agriculture Faculty UGM. Students will be trained here to become entrepreneurs.
"With this programme, 15-20 percent of alumni are expected to become enterpreneurs/ socioenterpreneurs," he said.
Prof. Dr. Ir. Achmad Priyatmojo, M.Sc., event chairman, said during its 70th anniversary, it was about time for the Faculty to reinstate its commitment in improving farmer's welfare. Thus, all academic community there can implement innovations from lecturers, students and staff for society.
In the anniversary there are also discussion and seminars of agricultural and fisheries researches , national seminar of PFI Komda Yogyakarta, Solo and Semarang, national seminar of PERHEPI, and seminars on Indonesian tea and agro-cluster.