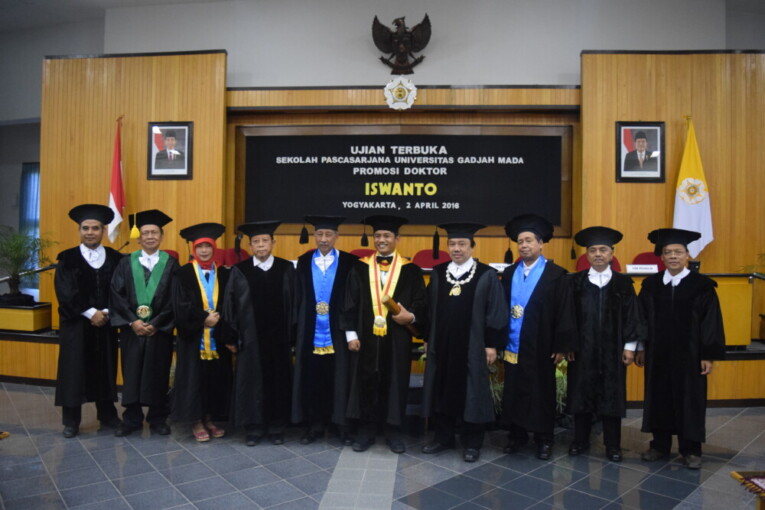 The natures of Household Hazardous Waste Disposal (SB3-RT) that are explosive, corrosive, infectious, reactive, or toxic make it important to manage it according to its type and characteristics. However, until now there is no specific management system for this type of waste in various regions in Indonesia, including in Sleman regency. In fact, improper handling of the household hazardous waste can cause environmental pollution and public health problems, such as acute poisoning, organ damage, degenerative disease, transmission of disease, disability, and even death.
"Most of the waste in Sleman including household hazardous waste was destroyed by fire, thrown away, or dumped in a residential neighborhood," said Iswanto, S. Pd, M. Kes., on his open doctoral exam, Saturday (2 / 4) at the Graduate School Auditorium.
In his dissertation he examines the type and generation of household hazardous waste in Sleman, the influence of the waste management to the potential health and environmental impacts, as well as the alternative management systems.
Garbage which is categorized as household hazardous waste is usually derived from household products containing hazardous materials, such as batteries, fluorescent lamp and a CFL, insecticides, lighters, paint spray (aerosol), disinfectants, medical drugs, or electronic stuff. Household hazardous waste in the neighborhood is significantly related to the income level and family knowledge about household hazardous waste.
"The higher level of family income will be followed with higher amount of household hazardous waste. Similarly, the higher level of knowledge about household hazardous waste, the greater amount of household hazardous waste generated," said lecturer at the Polytechnics of Health Ministry Yogyakarta.
In Sleman, the way of waste management can be divided into three, namely urban pattern through a government or private service, independent community-based pattern, and rural pattern that is generally done by burning or throwing trash into empty land or waters. Of the three patterns, according to Iswanto, the independent pattern has the ability to reduce household hazardous waste the highest, amounting to 85.71%. Moreover, he added that the handling of waste in Sleman district can not be separated from the role of the informal sector, namely the involvement of scavengers and collectors who collect types of household hazardous waste. The more household hazardous waste collected, the less amount of waste discharged into the environment.
He also presented his findings that the management system of household hazardous waste which is based on society through independent waste management group or a waste bank is the most optimal alternative to be applied in Sleman in the future. "My advice for the government is to issue a special regulation on the management of specific waste in which includes household hazardous waste, establish institutions to take charge, disseminate information and guidance to the public, and supervise the implementation of the management of household hazardous waste consistently and continuously," he explained.