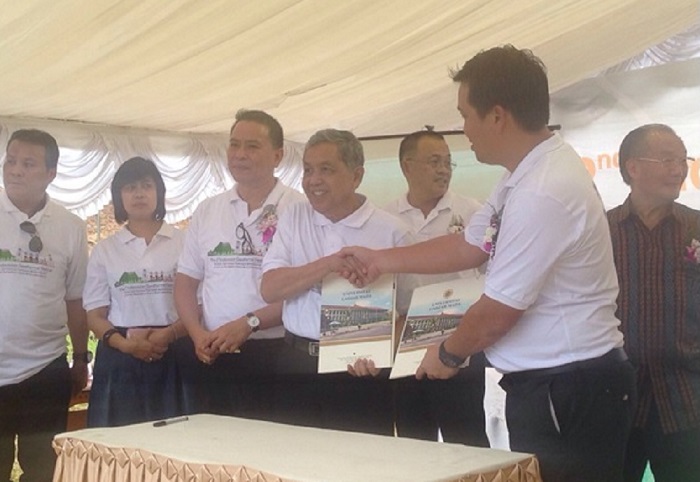 Universitas Gadjah Mada in cooperation with North Sulawesi regional government and geothermal stakeholders conducted the Second Indonesian Geothermal Festival from 5-6 August 2016 in Linow lake, Lahendong area of North Sulawesi. This is an annual event initiated by the UGM-NZAID team as part of the series of Student Community Service events of UGM 2016, a collaboration between UGM-NZAID Community Resilience and Economic Development (CaRED). It aims to appreciate the geothermal potential in North Sulawesi through cultural perfomance, education, and tourism.
During the Festival, cooperations were agreed on education,research, and community service related to geothermal energy. An MoU was signed between UGM and Yayasan Pendidikan Lokon. Furthermore, the Geothermal Virtual Information Centre was launched by Vice-Governor of North Sulawesi, Drs. Steven Kandow, and UGM Vice-Rector for Research and Community Service, Prof. Suratman. The Centre is expected to be used by all geothermal stakeholders including from industry, tourism, education, environment, and creative sectors.
On education, the community will be provided with understanding of sustainable geothermal potential and development through talkshows with the theme on Geothermal Edu-tourism, presented by resource persons: Ahmad Yani (PT. PGE Lahendong), Imamul Azhari (UPP Chevron), Ahadi (PT. PLN (Persero)), Bintara (Energy and Mineral Resources Ministry) Agus Prasetya (Chain Center UGM), Jeferson Polii (Yayasan Pendidikan Lokon), and Marthen Daniel Polii (Yayasan Masarang).
The Festival was enlivened with painting and photography competitions, quizz, educative fun trip, and exhibitions. These are all expected to create a harmony between all stakeholders in meeting the goal of energy independence and prosperity for the North Sulawesi province through geothermal potential.