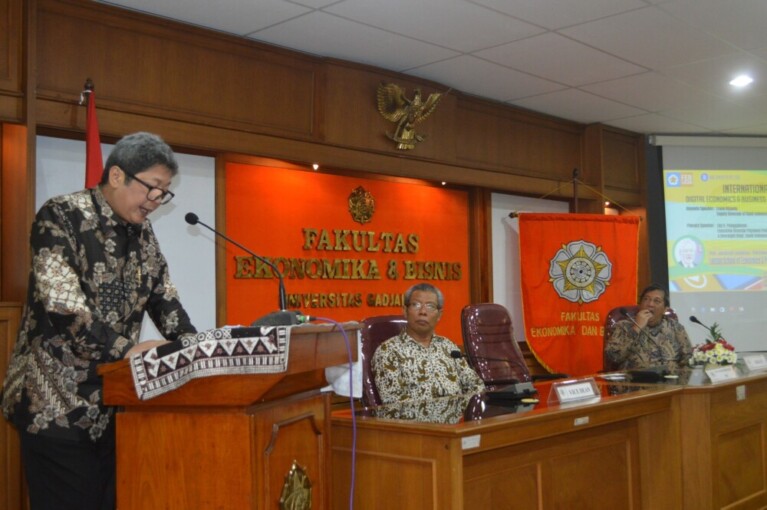 Faculty of Economics and Business UGM in cooperation with London School of Economics and Political Sciences (LSE), KAFEGAMA, and BI Institut hosted an international seminar themed Digital Economy and Business for High Economic Growth. Opened by Erwin Riyanto (Deputy Governor of Bank of Indonesia), the seminar presented Prof. Jonathan Liebenau (Professor in Digital Economics and Business, LSE), Jungwook Lim (Director of Startup Alliance), Eddiwan Danusaputro (CEO of Mandiri Capital Indonesia), Adrian Asharyanto Gunadi (Chairman of Inventree), and Stanislaus Tandelilin (CEO of Sale Stock).
"This event is a form of commitment of UGM in the growth of economy and digital business in Indonesia. After the FGD in August with BI, OJK, Telkom, practitioners and academics, event like this seminar will continue with the Indonesia Forum in October and World Economic Forum in Davos in January 2017," said Dr. Muhammad Eddhie Purnawan, Vice-Dean of the Faculty in the Kertanegara room on Wednesday (7/9).
According to Eddhie Purnawan, the theme of Digital Economy was interesting. South Korea that focused on Digital Economy already has immense economic added value. Along with Japan, South Korea since 1980 had come out of the lower middle income track.
"Indonesia wants to follow suit South Korea's measures in applications, information technology, and digital non-information technology. With E-Commerce and Fintech developments, Indonesia hopefully can make forward jumps," he said.
Erwin Riyanto said digital economy could be the key to boost economic growth in Indonesia. With half of the population is under 30 years of age, the rapid development of information technology can be used to support economic endeavours.
He added that digital economy and finance would also open opportunities for inclusive finance development. Efficiency and productivity can increase, too. But this needs consumer protection and stable finance system. He said Bank Indonesia had and would always reviewed risk and opportunities related to digital economy.