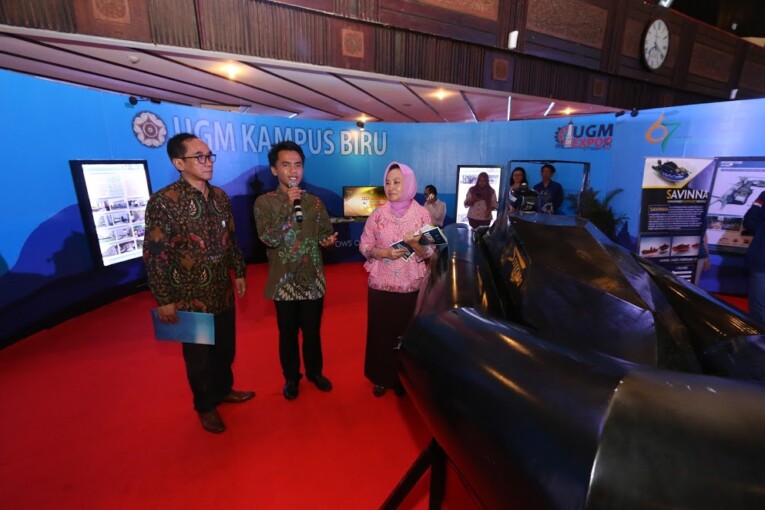 Universitas Gadjah Mada organised UGM Expo 2016, an exposition on education, research, and community service, which was presented by lecturers and students from 20-25 September in the university's Grha Sabha Pramana (GSP) hall, to introduce the work of UGM to the wider public and partners.
During the event, visitors will be able to see research products in health, manufacture, engineering, ITC, agroindustry, and renewable energy. These come in the form of a hydrocephalus semilunar valve, an unmanned ship, electric cars, organic produce, etc.
UGM Expo committee chairman, Prof. Dr. Ir. Sri Rahrajo, M.Sc., said the UGM Expo sought to disseminate information on UGM's products in education, research, and community service. With the theme 'Innovation for the Nation', it is expected that products from UGM can go downstream well to be more competitive.
The Rector of UGM, Prof. Ir. Dwikorita Karnawati, M.Sc., Ph.D., said UGM was mandated to contribute to the competitive level and welfare of the nation. This can be achieved in many ways, including by making innovative products that are useful for society.
"The UGM Expo is proof that UGM is always present to support human development in education, health, or social economic development," she said.
To help increase the competitive power of the nation, UGM collaborates with 21 institutions from government, health services, universities, state owned enterprises, and industry, in the areas of education, research, and community service. The signing of the memorandums of agreement with the partners was carried out during the opening of the UGM EXPO 2016.
Forms of Collaboration
Universitas Gadjah Mada Academic Hospital signed an agreement with community health centers in Sleman regency for patient referral care. The signing was carried out by Prof. dr. Arif Faisal, Sp.Rad, the Hospital's Director, and heads of nine community health centers, witnessed by the leadership and stakeholders. Prof. Arif said the UGM Academic Hospital would give health care for referrals from community health centers.
Another UGM partner, PT Schlumberger Geophysics Nusantara, is committed to giving aid in the form of software worth USD6.4 million including new technologies like Petrel, Petromod and Techlog. The Director of PT Schlumberger Geophysics Nusantara, Amit Singh, said the different kinds of software were in-house equipment that are used to interpret data on oil and gas reserves.