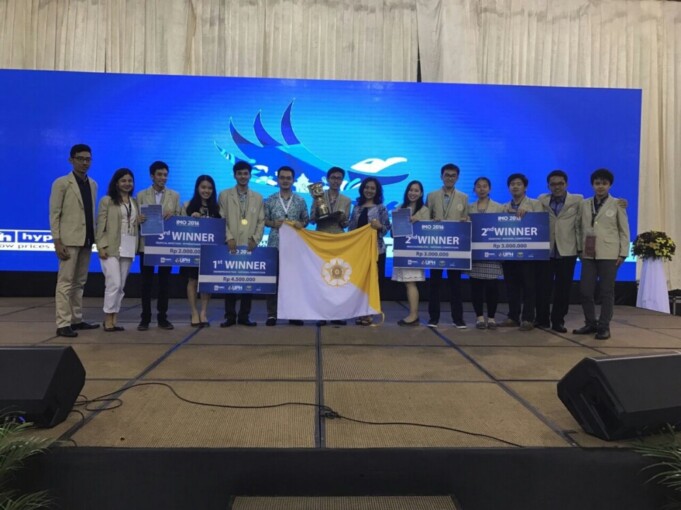 A student delegation from Faculty of Medicine Universitas Gadjah Mada (FK UGM) has become the general winner of the International Indonesian Medical Olympiad (IMO) at Universitas Pelita Harapan from 12-16 October kemarin. The UGM team earned 1 gold medal, 2 silver medals and 1 bronze international medal.
The gold medal was earned by Arinal Chairul Achyar and Kadek Dwi Wira Sanjaya in the Uroreproduction category. The 2 medals was from Maria Fransiska Pudjohartono and Marcellus in digestive category whilst Bernadeta Fuad Paramita Rahayu and Danny Agus Pramana Wahyudi in the muscoskeletal category. The international medal was gained by Jessica and Audric Kenny Tedja in tropical infection category.
"We were very grateful that the UGM team had become the general champion in this prestigious competition," said Audric Kenny on campus on Tuesday (18/10).
Audric Kenny mentioned the IMO had 628 delegations consisting of 314 teams from 68 medical faculties in Indonesia, the Philippines, and Malaysia. The annual competition held by Association of Indonesian Medical Student Senate (ISMKI) competed 6 championship categories, being 2 international categories: Neuro-Psychiatry and Tropical Infection; and 4 national categories: Digestive, Cardio-Respiratory, Musculoskeletal, and Urogenital-Reproductive.
"We worked hard in this competition and had to undergo 3 selection stages that were tough," he said, mentioning that in the selection all teams were given 120 multiple choice tests and 20 on identification ability in anatomy, histology, microbiology, and health supporting checks.
The best 12 teams that got through to the semifinals had to do 60 multiple choice tests as well as treating simulated patients.
"For the tropical infection category, the selection was rather different where we had to make preparate for parasite identification and reports," said the student from class of 2014.
In the finals, 5 best teams were asked to give a presentation based on selected cases in addition to a quizz.
Audric Kenny was proud of their achievements, hoping that in the future the UGM team would be able to retain the win in similar competitions both nationally and internationally.