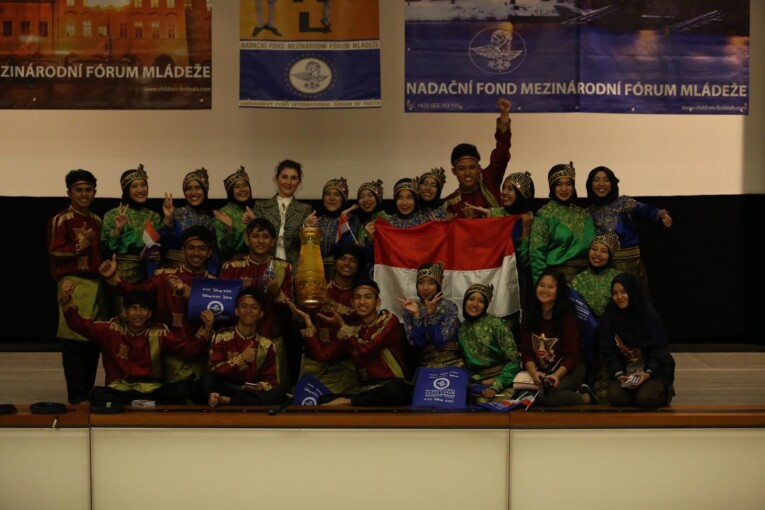 Rampoe UGM aka Aceh Community dance became the champion in the International Festival-Contest Children and Youth Creativity "The Autum Fairy Tale" in Prague, Teplice and Berlin, from October 29 until November 2, 2016. In these competitions, Rampoe UGM successfully won the Grand Prix trophy and was awarded as the best performer of 15 other teams from various countries in Europe.
"This achievement is a pride for us because we represented Indonesia and Asia in cultural diplomacy and resulted in a delightful achievement," said the team leader of Rampoe UGM, Muhammad Aziz, when contacted in Prague, Tuesday (1/11).
Aziz said that in this cultural mission, Rampoe sent 22 dancers consisting of 13 female dancers and 9 male dancers, supported by one manager and two photographers. During the competition, Rampoe featured four dances which are Ratoeh Jaroe Dance, Meusare-sare Dance, Tarek Pukat and Rapa'i Geleng Dance.
"Collaboration between Meusare-sare and Tarek Pukat had amazed the jury. We were declared as the winner team after setting aside other 15 teams of performers from other countries," he said.
Rampoe's victory could not be separated from practice and hard work of its members. In addition, it was due to the support of various parties such as Arabic Literature Department, Faculty of Cultural Sciences UGM, Kagama, Pertamina, BNI, Youth and Sports Ministry, State Secretary, and the Embassy in the Czech Republic.
"Thank you for your prayers and support, hopefully in the future (we) can continue to make Indonesia proud," Aziz said.
Of their achievement, Rampoe UGM has the right to advance to the World Festival of Youth Cruise 2018. In addition to the competition, Rampoe UGM had the opportunity to join the cultural tour. On the tour, Rampoe UGM would build networks with Indonesian Embassies in the Czech Republic, the Netherlands and Germany. In this event, they attempted to establish communication with the diplomats who will always be involved in various activities related to Indonesia.
Rampoe UGM is a unit of student activity from Faculty of Cultural Sciences UGM which was established in October 2009 and engaged in the art of Aceh traditional dance. A series of successful achievements were achieved by Rampoe UGM in various events at the national and international stage such as Nang Ying International Folklore Festival in Taiwan (2016), Festival of Color of The World in Malaysia (2016), National Folklore Festival UI (2016), Festival Mondial de Folklore De La Ville De Saint Ghislain, Belgium, and Festi'roche La Moliere France (2014).