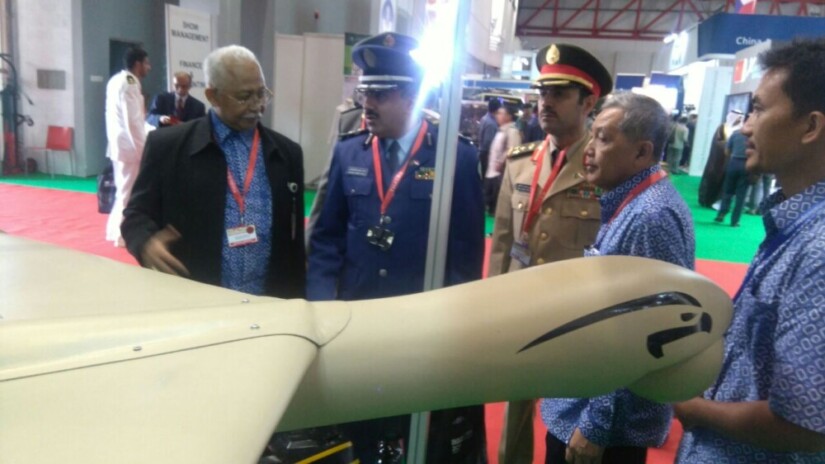 UGM has once again participated in an international scale industry exhibition, Indo Defence 2016 Expo and Forum, to be held at JIExpo Kemayoran, Jakarta, from 2-5 November 2016. Research of excellence from UGM was presented in the exhibition hosted by the Defence Ministry.
This time UGM displayed various products of research in state defence concept, such as the works of lecturers: UAV Gama, Nano Cubesat Satellite, Magnetogama, and Micro Machining, and of students: UAV Elang Cakra and Bangau Biru by GamaForce team.
Next are unmanned ship, Savina, by Robobot team for protecting and mapping seabed areas; also GamaSafe, UAV Gama Contro, and Water Tunnel Facilities.
Those products appeared to have withdrawn the attention from international and domestic visitors, including Colonel Ahmed Al Qahtani from the Royal Saudi Arabia Air Force (RSAF) who was interested in getting to know more of UGM defence products. In his opinion, UGM ought to enhance research in defence to support state sovereignty.
UGM Vice-Rector for Research and Community Service, Prof. Dr. Suratman, said UGM was committed to developing technology, including defence technology. UGM is trying to accelerate research outcomes so that these can benefit the society and the country.
"Hopefully, the development of the technology products can meet the domestic need and reduce dependence on imported products," he said on Wednesday (2/11) alongside the opening ceremony.
The theme of this year's exhibition is Bolstering Defence Industry Cooperation: Achieving a Global Maritime Fulcrum and Secure World which is opened by VP Jusuf Kalla. As many as 844 participants from573 foreign companies and 271 domestic ones from 45 countries joined the event.