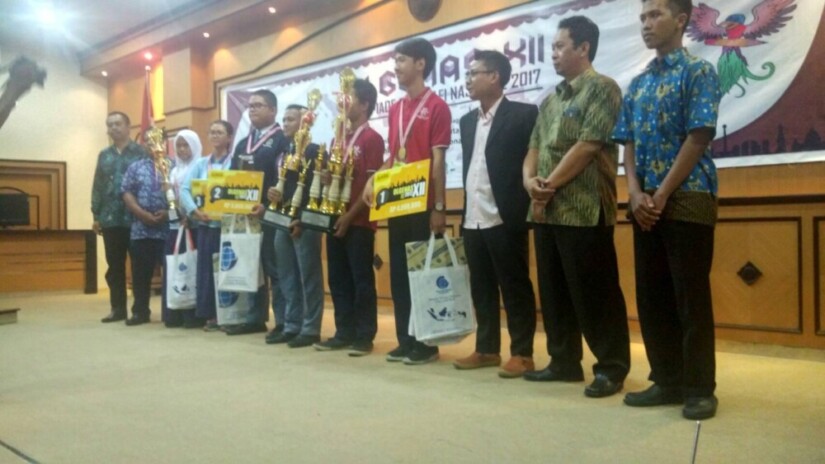 SMA Kesatuan Bangsa, Yogyakarta, became the champion of National Geographic Olympiad (OLGENAS) 2017 organised by Faculty of Geography UGM from 9-13 January 2017. The runner-up was SMA Taruna Nusantara and third winner SMA Semesta.
OLGENAS committee chairman, Alfian Nur Arozan Hidayattulloh, said as many as 167 teams from high schools across Indonesia joined the competition that raised the theme Geotourism to Realise Sustainable Development to Accelerate National Economic Growth.
Alfian said the winners were selected based on accumulative scores from several criteria, including essay and poster, written test, multimedia tests, laboratory test, and outdoor learning test.
"The winners are achievers of highest accumulation scores and are recommended to be accepted at Faculty of Geography UGM," he said on Monday (16/1) at UGM.
Some other awards in the Olympiad include best theory for SMA Semesta, best multimedia for SMA Kesatuan Bangsa, best laboratory for SMA Semesta, and best presentation for SMA Darul Ulum 2 BPPT. Further, best poster was for SMAN 3 Surakarta, best essay for SMAN 1 Pacitan, best outdoor learning for SMAN 3 Semarang, and favorite poster for SMAN 1 Sampang Cilacap.
In addition, an Olympiad for junior high school students was also held, joined by 75 teams from around Indonesia. The champion was SMP N 1 Salatiga, runner-up SMP N 1 Banjarnegara and third winner SMP N 1 Wates.
Consolation prizes went to SMP Islam Al-Abidin and SMP Plus Ar-Rahmat Bojonegoro. Meanwhile, the best theory winner was achieved by SMPK 8 Penabur, the best outdoor learning by SMP Labschool Kebayoran, and the best multimedia by SMPN 1 Banjarnegara.
OLGENAS is an annual event since twelve years ago, held by Student Executive Body of Faculty of Geography UGM to introduce and increase understanding of geography science to junior and senior high students as well as to generate human resource that has high intellectuality.