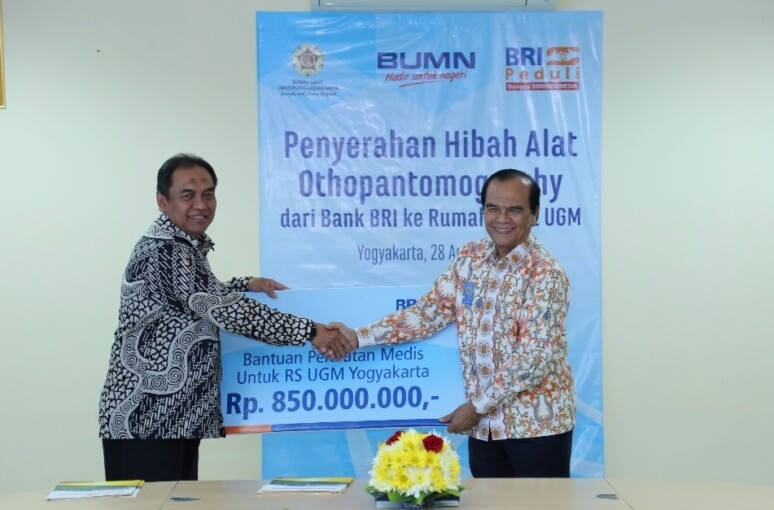 Universitas Gadjah Mada (UGM) Hospital received a dental X-Ray equipment which is known as Orthopantomography (OPG) from Bank Rakyat Indonesia (BRI). The OPG was assigned by the Head of BRI Yogyakarta branch office, Andik Eko Putro, towards the Director of UGM Hospital, Prof. dr. Arif Faisal, Sp.Rad (K)., DHSM., on Friday (28/4) at the Hospital.
Arif Faisal expressed his gratitude towards BRI upon their support by giving an X-Ray equipment for dental care. It will enhance the Hospital's service in dental treatment.
"All this while, if there were patients who need to do a dental X-Ray, we sent them to another hospital because we did not have the machine yet," said Arif.
Arif Faisal said his office would utilize it maximally for the interest of the society. He hopes this support will be beneficial for them.
"We hope it will give an advantage to the health sector and the society who need it," he added.
Andik Eko Putro said the support was funded by BRI to boost the realization of healthy society. He hopes the dental X-Ray can enhance the hospital service for society.
"We hope it can be beneficial and improve the service facility in UGM Hospital. We appreciate the opportunity to cooperate with UGM, and we hope our cooperation can be maintained in the future," said Andik.
The OPG from BRI is the latest generation of dental X-Ray equipment. It can display X-Ray results in three dimensions (3D). Therefore, the dentist can diagnose the result easier.