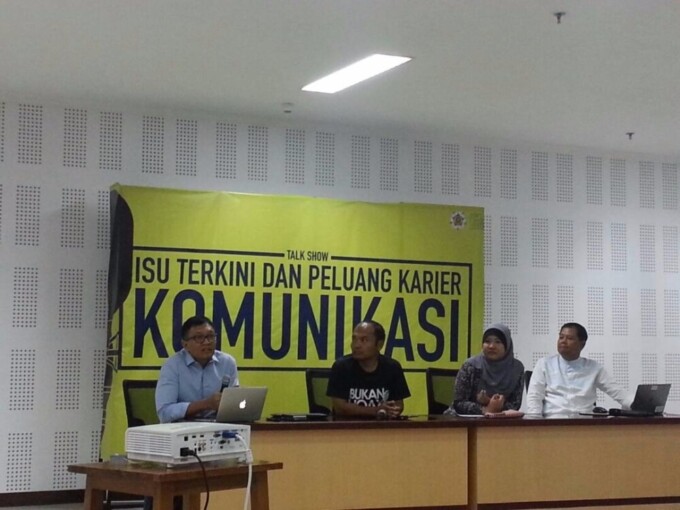 There has been rampant spread of hoax in social media recently. Not only does this cause concerns among people, but also becomes a challenge for the Indonesian press.
"The press has to be part of the agent that does not spread such hoax," said Imam Wahyudi from Indonesian Press Board on Friday (12/5) at Faculty of Social and Political Sciences UGM.
Imam said currently not a few media got carried away in spreading hoax. They adopt fake news from social media without clarifying and verifying it first. Indonesian Telematics Association Indonesia recorded that print media contributed to the spread of hoax by 5 percent and television station 8.7 percent.
"This fact becomes a serious problems because as a matter of fact, mainstream media ought to be the reference," said the alumnus of Communications studies programme at UGM.
Speaking at a talkshow during Congress and Alumni Gathering "Publikom Gama" of Department of Communication Studies UGM, Imam said the Indonesian press community has to be loyal to the principle and ethics of journalism. They have to verify facts as a process that has to be undergone by journalists and the media.
"Don't get carried away by the flow, wanting to act like a social media that runs on speed but without making verifications first," he said.
CEO of Dentsu One, Janoe Arijanto, highlighted the phenomenon of the blending of social and commercial domains that happen intensely in recent times. Crowd culture flourished in competition with mainstream media. Street information has the position equal with that of mainstream media.
"Information that is born by the public competes with one from mainstream media, so this has in fact posed a challenge," he said.
In the Congress and Alumni Gathering "Publikom Gama" that last from 11-12 May 2017, speakers that were present were alumni, including Ishadi SK (Commissioner of CNN Indonesia), Agung Wiharto (Corporate Secretary of PT Semen Indonesia), Rizal Mallarangeng (CEO of Freedom Institute), Titan Hermawan (Managing Director of MNC Pictures), Susilo Dwi Hatmanto (GM of First Position Group), and Agung Satrio (Creative Group Head Leo Burnet).