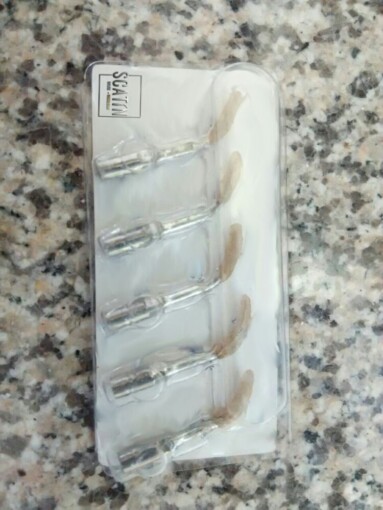 Scaling or cleaning of dental caries or plaque is one of treatments for patients offered by dentists. Many people, however, are unaware that scaling may damage the dental surface. This fact has prompted five students of Universitas Gadjah Mada (UGM) to make tip scaler named as SCATIN.
It was Maria Febritania Wahyuni Huri, Eltrin Khotimah Maharti, Hamzah Sukma Anggoro, and Larissa Sambudi from Faculty of Dentistry and Adalatul Laksmi Fisuki from Faculty of Pharmacy that made the tip scaler under the supervision of Dr. drg, Archadian Nuryanti, M.Kes. They tried to find an alternative to tip scaler from metallic material as the metallic structure can damage the dents.
"We're trying to explore materials that are strong enough but with a structure softer than that of the dent so that it can still channel the ultrasonic waves from the scaler machine without damaging the surface of the dents. We finally found the material, which is chitosan," Laksmi said on Tuesday (4/7).
Chitosan is biocompatible, non-toxic, which can be made into film or coating; it is strong and anti-microbial so that it can prevent infection during scaling. The students made use of chitosan from shrimp peels that are not much used by society.
These students processed the shrimp peel waste into disposable tip scaler that does not damage dental surface, is anti-microbial, and safe.
Laksmi explained that their product had three-in- one characteristics. SCATIN also has chitosan coating in the surface that is anti-microbial as well as able to minimising the prevalence of infection whilst scaling. SCATIN is also disposable so it can prevent possible disease transmission between patients that emerges in the tip scaler used by many patients.
"Despite sterilisation of the tip scaler, if the process is not optimised due to limited tools in remote areas, for instance, such tip scaler may become the source of disease transmission between patients," she added.
Their in vitro research proved that SCATIN can minimise dental surface damage after scaling, it is anti-microbial, and can clean the dent optimally. The students will do in vivo research further to develop the product into mass-production.
"We're thinking to develop our product further because our tip scaler is a little thicker than regular scalers. We want to make it more compatible to reach all dental areas," Laksmi concluded.