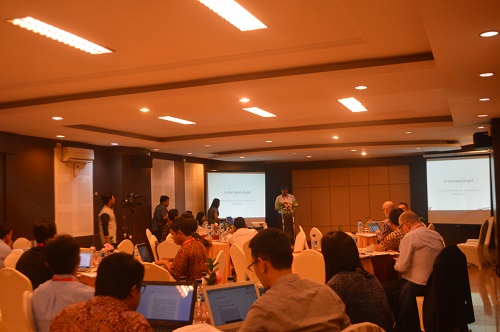 Faculty of Law UGM hosts an international conference themed Legal Reform in Indonesia: Towards Justice for two days from 6-7 September in University Club UGM.
It is run in collaboration with Universiteit Leiden, The University of Melbourne, The University of Sydney, and KITLV joining the Indonesia, Australia, and The Netherlands Community (IANC) on Socio-Legal Studies. The event discusses socio-legal approach which is crucial to understand law entirely in surrounding social contexts.
"The conference promotes socio-legal approach that has yet to be dominant approach in Indonesia," said event chairman, Tody Sasmitha, on Thursday (7/9) alongside the conference.
Tody said socio-legal approach has the role to encourage the society to be more critical towards legal norms of a country that has the potential to abuse citizen rights. This approach also gives substantive input to the legal reform agenda currently running in Indonesia.
"The event discusses the law of Indonesia after the reforms. What and how social context is affected and affects the law, also finding recommendation for new laws to ensure justice for the citizens," he said.
There are five panels of the conference, which are Land and Environmental Law, Criminal Law, Anti-Corruption Law, Islamic Law, and Constitutional Law. As many as 33 papers have been selected to be presented in the conference. They are from Prof. Tim Lindsey (The University of Melbourne), Prof. Sulistyowati Irianto (Universitas Indonesia), Todung Mulya Lubis, Dr. Laode Muhammad Syarif, (Anti-corruption Commission), Prof. Simon Butt (The University of Sydney), Prof. Adriaan Bedner (Universiteit Leiden), Prof. Maria S.W. Soemardjono, and Dr. Zainal Arifin Mochtar (Universitas Gadjah Mada).
This is the first international conference run by Faculty of Law UGM that relates to socio-legal approach. This marks the commitment of the Faculty to make contribution actively in the development of socio-legal studies and the growth of socio-legal activists in Indonesia.