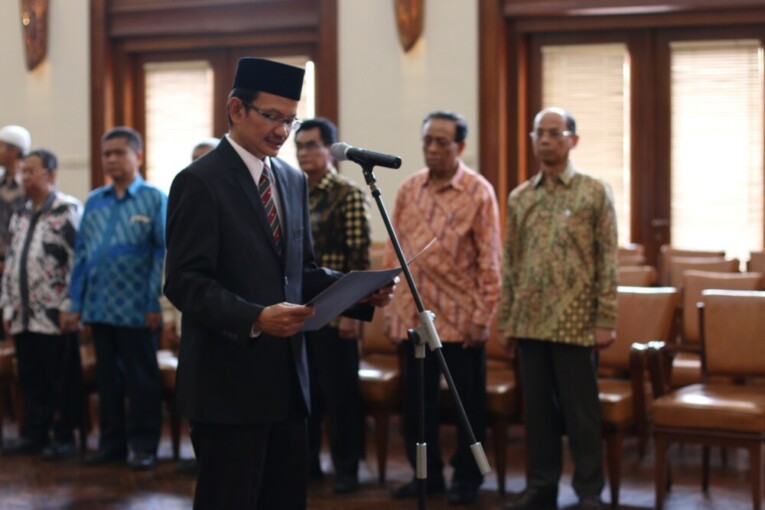 Rector of UGM, Prof. Ir. Panut Mulyono, M.Eng., Ph.D., installed Prof. Ir. Nizam, M.Sc., Ph.D., as Dean of Faculty of Engineering UGM for the period 2016-2021 on Monday (11/9) in the Senate Hall UGM. Nizam succeeded Panut Mulyono who had been appointed as Rector. The Rector in his speech congratulated and supported Prof. Nizam to be able to bring forward and develop the Faculty of Engineering. "The new Dean is able to bring significant progress to Faculty of Engineering so that it can make contribution to the state and the nation, and (able to) support UGM towards international recognition," said the Rector.
The Rector touched upon the international recognitions received by UGM that has recently been included in the 1,000 world's best universities according to Times Higher Education (THE) ranking. "UGM along with UI and ITB are included in the 801-1000 ranking," he said.
In spite of this fact, said the Rector, the world ranking is not the main goal to be achieved by UGM. The result from the independent ranking, however, informs universities the achievements that they have made. "Ranking is not the goal, but it is a picture of our works that show actual description of the field," he said.
In the event, Prof. Nizam vowed an integrity pact related to his commitment in the development of UGM values, not to commit corruption, collusion, and nepotism as well as plagiarism. "I am hereby willing to be sanctioned morally, administratively, (paying) damage, (or summoned to) lawsuit according to prevailing regulations if I abuse it," said Nizam.