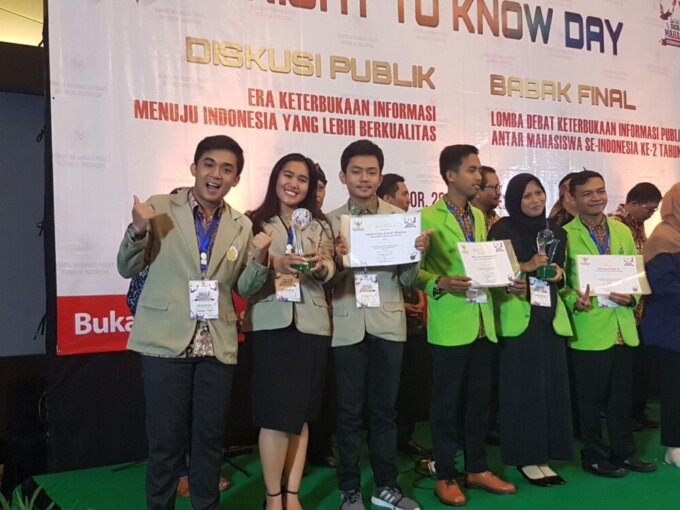 UGM students made another achievement at the national level. This time, UGM students became the winner of a student debate competition after winning the final stage which was held on Thursday (28/9) at IPB Convention Center Bogor. The debate competition which was conducted for three days was purposely held to celebrate the International Right to Know Day on September 28.
Delegations of UGM consisted of three students from International Relation Department, Faculty of Social and Political Science, they were Jonathan Evert Rayon, Tantri Friscila Ginting, and Jefri Andika Pakpahan. In order to be the winner of the competition, they had to compete with 15 teams from other universities in Indonesia.
"In the grand finale, those students won over Sunan Walisongo Islamic University Semarang by presenting a motion regarding live broadcast in the trial controversy. Before entering the grand finale, UGM students had defeated Malang State University, University of Indonesia, as well as Surabaya State University," said Information and Documentation Management Officer UGM as the debate team supervisor, Dr. Iva Ariani, S.S., M.Hum.
Iva, the Head of Public Relations and Protocol UGM said she was asked to be the team supervisor corresponding to her role in the implementation of information disclosure at UGM campus.
Public information disclosure was the theme of debate motion in this competition. Therefore, according to Iva, it becomes an indicator of how far the students comprehend the issue, including the constitution as well as its implementation in the university.
"These students not only win the debate competition. More than that, this achievement proves that UGM students already aware of public information and constitution on information disclosure which has been well implemented in UGM," said Iva.
Iva hopes those students will be able to become the actors who campaign as well as give education regarding information disclosure towards their colleagues and the other academic community. Therefore, the implementation of the constitution on public information disclosure can be better and it will give many benefits for the society.