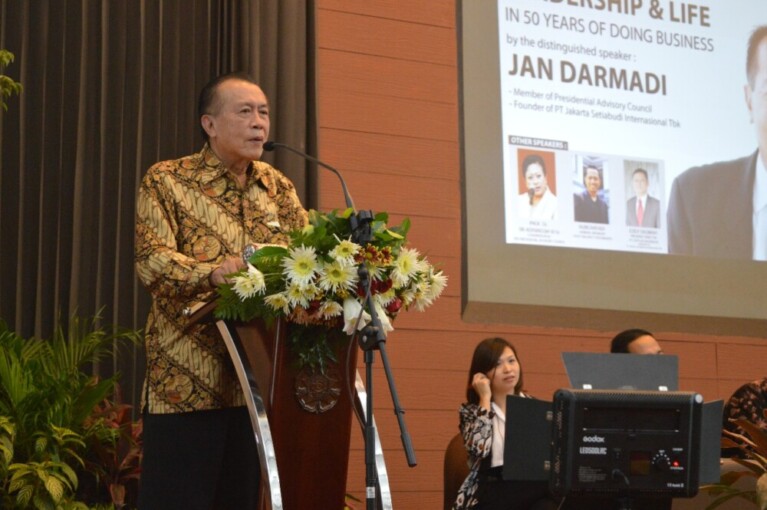 Faculty of Philosophy UGM has granted the Philosophy Award to Prof. Dr. Franz Magnis-Suseno SJ as Indonesian Leading Philosopher 2017.
"The award is conferred as a form of recognition and appreciation of the dedication, contribution, and positive impact of Prof. Dr. Franz Magnis-Suseno SJ to the introduction and development of philosophy studies," said Dean of Faculty of Philosophy UGM, Dr. Arqom Kuswanjono.
Arqom explained Franz Magnis-Suseno was appointed to receive such award after an empirical verification was done on his works on Indonesian philosophy and his influence in the development of philosophy in the country. By this award, he asked the Indonesian and world academics to acknowledge individuals that deserve to be named as a philosopher.
"All this while, those who are considered philosophers are people coming from foreign countries while in fact in Indonesia there are also thinkers who have special characteristics and deserve to be named as a philosopher, too," said Arqom.
The Philosophy Award is granted for the first time during the 50th anniversary of Faculty of Philosophy UGM. In the award conferment on Saturday (21/10), Franz Magnis was represented by Deputy Head of Driyarkara School of Philosophy Jakarta, Rev. Simon as Rev. Franz was being hospitalised. Rev. Simon appreciated the UGM because the award is not an appreciation to Franz Magnis only but to the development of philosophy in Indonesia.
"Respect to UGM that since 50 years ago had initiated the development of Indonesian philosophy. This (award) is an appreciation to philosophy as a science that is seeking the truth and does not recognise ethnic groups and religions that segregate us," said Rev. Simon.
In the event he read out Franz Magnis' speech titled Philosophy as Science that is Questioning Things, he explained how philosophy is the key element in sharpening and refreshing the intellect of a nation.
"Philosophy is not everything but without philosophy, the intellectual sphere will be bland, dogmatic, and void," said the Reverend in his speech.
On the development of philosophy studies in Indonesia, the Reverend mentioned the importance of giving intellectual support to every struggle made in the country such as principles of political ethics that underlie the Indonesian state development, the position of religion in the state and religious freedom, and social justice and implications to realisation of state solidarity to its weakest citizens.
Similarly, Rector of UGM, Prof. Ir. Panut Mulyono, M.Eng., D.Eng., said that going forward UGM would continue to develop studies of Indonesian philosophy to be where it deserves in the academic domain and in the state life.
"UGM wants to always develop philosophy so that in Indonesia there will be more great philosophers who can bring the country forward into more future oriented and optimistic country," said Panut.