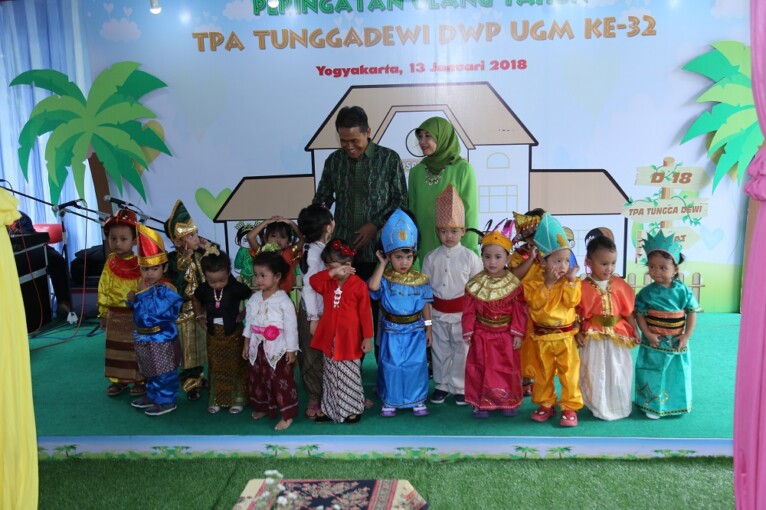 Entering its 32 years, Tunggadewi day care run by UGM Women's Association is expected to contribute to building and strengthening the characters of young generation.
This was said by Rector of UGM, Prof.Ir. Panut Mulyo, M.Eng.,D.Eng., when giving a speech during the anniversary of the day care of Tunggadewi on Saturday (13/1). Themed My Diverse Nusantara, the event was enlivened with arts performance by the children and teachers as well as food decorating by parents.
At its base in Sekip Blok M-5 Bulaksumur, Panut said the education of early childhood education had a significant role to character and behaviour building, especially to preparing the children to meet the rapid technology development.
"In this era, innovation disruption becomes the main issue in education to generate human resource with noble characters. It's about having children that have noble traits and good characters so that they can be resilient whilst giving services to the country," he said.
Furthermore, Panut appreciated the Tunggadewi day care that had supported and assisted UGM staff while they are on duty at UGM in terms of child education.
Chairperson of UGM Women's Association, Nur Indrianti Panut Mulyono, M.T., D.Eng., IPM., said Tunggadewi day care was established on 7 January 1986, initiated by Nina Koesnadi Hardjasoemantri, firstly situated on Block H-8 Bulaksumur. In 2000 the management was transferred to the Association under the coordination of education division while the site moved to Sekip Block M-5 Bulaksumur.
"Tunggadewi day care has run really well. Initially, it was established for day care only, but now it has been increased to have standardised early childhood education of curriculum 2013," she said.
Tunggadewi day care has already 1,600 alumni that now work in various areas. Currently, it has 52 children aged 2 months – 5 years old, supported by 17 teachers and assistants and 2 staff.
Tunggadewi's headmistress,, Retni Dani Setyowati, explained in the beginning, the ratio between teachers and children was not appropriate in addition to limited supporting facilities.
"But currently, Tunggadewi day care has improved in terms of facilities and quality and number of human resource.Thank you to UGM that has always given us assistance until today," she said.
Afterwards, a rice cone cutting ritual was done by Manager of Tunggadewi day care, Rita Didi Achyari, which was handed to the Rector, daycare chairperson, and representatives of founders. Appreciations were also presented to their outstanding staff.