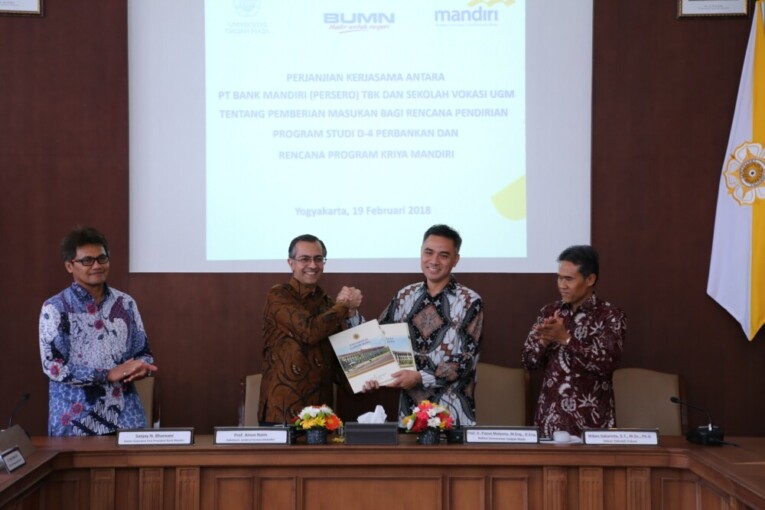 UGM Vocational School and PT Bank Mandiri (Persero) Tbk have agreed to establish cooperation to open a diploma four programme in Banking as well as apprenticeship programme.
The agreement is put into writing by Dean of the Vocational School, Wikan Sakarinto, S.T., M.Sc., Ph.D, and Senior Executive Vice President Human Capital of Mandiri Bank, Sanjay N. Bharwani.
"Specially, we bring in the industry into the learning domain because amidst the disruption era, campuses cannot walk alone without engaging the industry," Wikan Sakarinto said at UGM Conference Room on Monday (19/2), adding that, "those can be realised into the curriculum that we are now devising together."
Sanjay N. Bharwani said the apprenticeship programme was to learn in integration with Mandiri Bank branches across Indonesia. This will give opportunity to the UGM students to gain work experience. Sanjay added human resource building was the focus of the present times and Vocational School establishment was one of the efforts to achieve it. Enhancing vocational education and bringing in the industry will produce qualified human resource.
"The establishment of the diploma four programme (D-4) would produce excellent and professional human resource in banking industry," he said.
Rector of UGM, Prof. Ir. Panut Maulyono, M.Eng., D.Eng., welcomed the cooperation, saying that through lifelong learning, student admission can be expanded.
"Hence, staff working over 2 – 3 years may have the opportunity to do studies again and take the D-4 or regular S1 programme," he said.
Secretary General of Research, Technology, and Higher Learning Ministry, Prof. Ainun Na'im, Ph.D, M.B.A., who witnessed the agreement signing said the Ministry welcomed the plans for the establishment of diploma program and apprenticeship. The effort made by Mandiri Bank, said Ainun Na'im, would affect and improve people's participation in pursuing higher education.
But due to the limited capacity and system in Indonesia unlike in other countries that offer vocational education to be done at work areas, the Indonesian vocational education is developed using the 321 model. It means 3 semesters are done in class, 2 semesters in industry and 1 semester either in industry or in class.