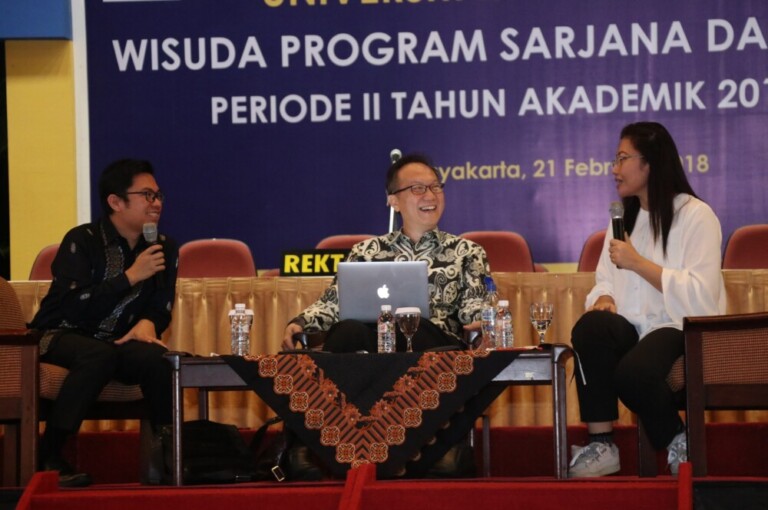 Director for Service and Business Development of PT. Transportasi Jakarta, Welfizon Yuza, convinced students to get themselves accustomed to learning or working in a team.
"If you get used to working or studying on your own, you will find it difficult when you enter the job market, which demands team work," he said in Grha Sabha Pramana, Bulaksumur, on Tuesday (20/2) whilst sharing his experiences to some 1,648 UGM fresh graduates. The event is regularly done by UGM to prepare alumni getting into work.
Welfizon said in the working world, nobody will become Superman or Superhero. What is built at work is Superteam. So, to be able to work in a team, one has to be a follower first, afterwards he may become a leader. This is when a leader is required to have a goal.
"You ought to have a goal to achieve by your company or organisation. When in a team, we are urged to work based on facts and data," he said.
Another speaker invited to the event was dr. Gideon Hartono, owner of Apotik K-24, a pharmaceutical store.
As a businessman, Gideon Hartono said Indonesia needs many entrepreneurs. Therefore, he asked UGM graduates to be willing to do entrepreneurship.
"You ought to dare to start a business even if it's small. Success means achieve your goal. One of those can be done by being an entrepreneur," he said.
Being a businessman, said Gideon, one is urged to be able to see opportunities and to manage, compile data and collect resources that are needed by the company. But the most important thing is dare to start and take the risk.
"There are many reasons for someone to be a businessman, whether to get wealthier than their current situation, to have more freedom as he is the owner of the business, or by chance," he said.