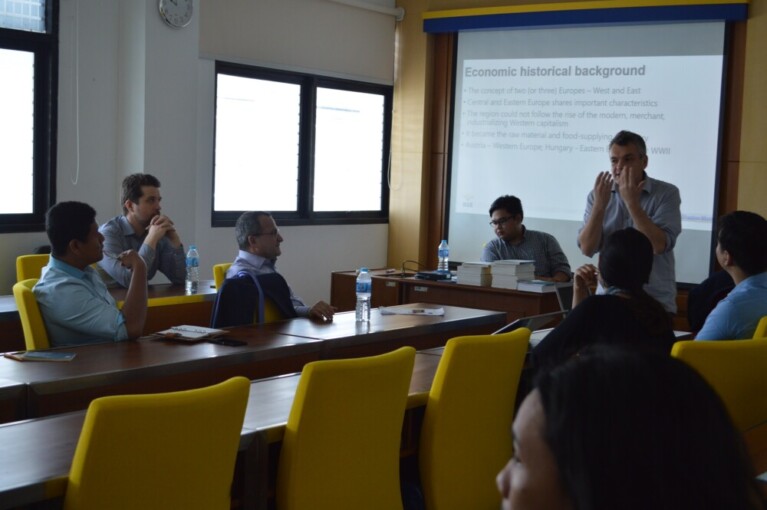 Institute of International Studies (IIS) of International Relations Department at Universitas Gadjah Mada in cooperation with Embassy of Hungary in Jakarta gave a public lecture themed GO HUNGARY-GO INDONESIA, The Restructuring of External Economic Relations from Central European Perspectives, at Faculty of Social and Political Sciences UGM on Friday (23/3) by inviting two lecturers and researchers from Budapest Business School (BBS), Prof. Tamás Novák and Prof. István Ábel.
Prof. Novák who is Director of Oriental Business and Innovation Center of BBS discussed economic restructuring in Central Europe after the Great Economic Crisis, later touching upon economic cooperation reorientation with Southeast Asian countries.
Prof. Ábel, Dean of Faculty of Finance and Accounting of BBS, described strategy and policy taken by Hungarian Central Bank to recover and improve national economy after the Great Crisis three decades ago.
The event is moderated by Aldoreza Prandana, M.Sc, who is International Cooperation staff at DIHI UGM, also alumnus of Hungarian scholarship programme – Hungaricum Stipendium in 2011-2012.
Go Hungary-Go Indonesia Programme is initiated by the Hungarian government to improve bilateral relations by expanding cooperation in economic, social, and cultural sectors. Activities conducted in the programme include book publication, visitation, also general lectures by Hungarian experts.
IIS UGM which is a research unit of DIHI UGM that has European studies and serves as coordinator of Indonesian Community for European Studies (KIKE) welcomed the cooperation enthusiastically. IIS tries to contribute actively to Indonesian foreign policy, not just with developed countries, but also emerging powers.