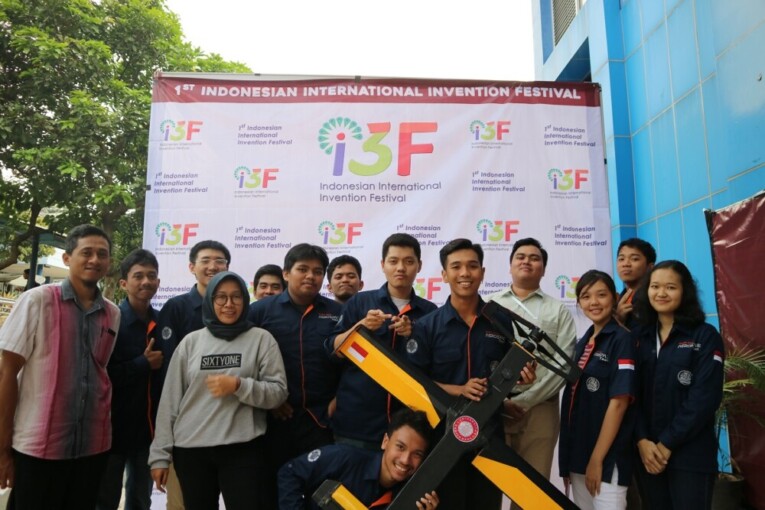 Ugrasena, Gadjah Mada Aerospace Team (GMAT), has successfully brought home a gold medal from the Indonesian International Invention Festival (I3F) 2018, held in Malang, East Java, from 19-20 April 2018. Over 70 teams from universities and agencies in Indonesia joined the competition, bringing with them their prototypes to the event. The Ugrasena team became the best in Technology category.
The Ugreasena team has made an innovation in UAV (Unmanned Aerial Vehicle). Team supervisor, Catur Atmaji, S.Si, M.Cs., explained the innovations that they made in the UAV, which include flying of three UAVs at once with just one remote control. It is named as Ugrasena Flight Group.
Catur explained the UAV Flight Group technology has communication system basis which is different from those in regular UAVs. One of the UAVs is the master of system of the other two while the two will be controlled automatically according to the route and target.
"Through the Ugrasena Flight Group technology, one person can mobilise three UAVs at the same time under one control, so the problem of minimum UAV controllers can be solved," said he on Thursday (26/4).
Giodeliva Kintan, member of the team, said their UAV could also cover a large area altogether. Each of the UAVs can spread out and send notifications from the area it monitors.
"The large coverage of Ugrasena Flight Group is very suitable for disaster and emergency mission," said Kintan.
Focusing on first aid solution to evacuation efforts from difficult areas, Ugrasena Flight Group can also carry a load of a maximum of 3 kg. "This can be used to send First Aid Kit faster to handle emergency events such as the disappearance of mountain climbers," said Kintan.
These innovations made the Ugrasena Flight Group UAV win the I3F 2018. Another team member, Ray Saputra, said the win was not easy to get. The making of the UAV by four different divisions had demanded them close cooperation and coordination to finish the job.
"It took two months for Ugrasena team to get the maximum result in the I3F 2018. We hope we could develop it further to give more benefits to people," Ray concluded.