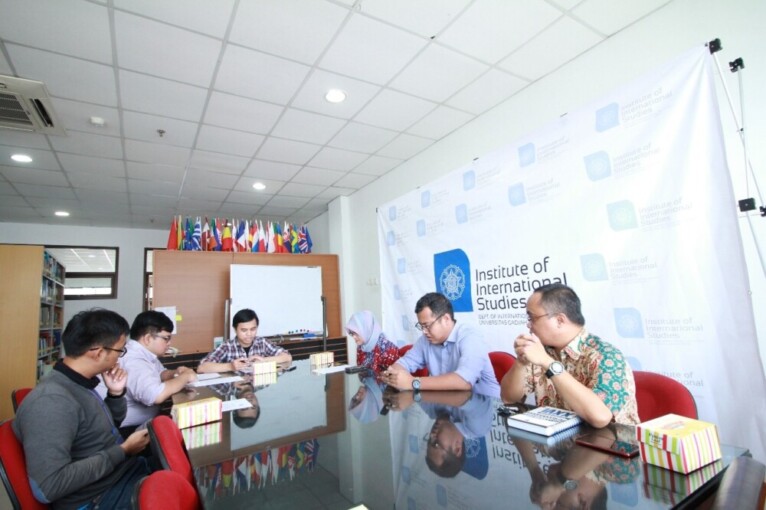 The momentum of the summit between South Korean President, Moon Jae-in, and North Korean leader, Kim Jong-un, in Panmunjom has come under the spotlight. Both have agreed the Panmunjom Declaration containing important points such as the commitment of both parties to end the Korean war and denuclearisation of Korean Peninsula. As a response to the declaration, International Relations Department UGM's Institute of International Studies (IIS) hosted a discussion themed Efforts to Build Peace and Denuclearisation of Korean Peninsula on Thursday (3/5) at IIS room.
Several speakers were invited to the discussion, including Dr. Nur Rachmat Yuliantoro, M.A. (Head of International Relations UGM), Dra. Siti Daulah Khoiriati, M.A. (expert in East Asia and Japan studies), and Yunizar Adiputera, M.A (expert in International Security Studies and Nuclear Disarmament).
Rachmat highlighted the phenomenon that caused the softening stance of North Korea that eventually led to the declaration. Rachmat assumed that one of the causes had been the economic pressures in various forms from countries as well as the UN which subjected them to diplomacy
"There have been several economic sanctions from countries in the world being imposed on North Korea. This has definitely impacted directly on the economy of North Korea," he said. He did not negate other possibilities that might reduce North Korea to diplomacy.
On the other hand, Yunizar had the opinion that despite the declaration for peace, but peace and denuclearisation were seen as still on the horizon. This was based on the failures of similar agreements back in 2000 and 2007. Both had agreed on peace, but this has yet to materialise until today.
"In spite of this fact, the recent declaration still needs to be appreciated and the intention of both parties for peace is worth the wait," said Yunizar.