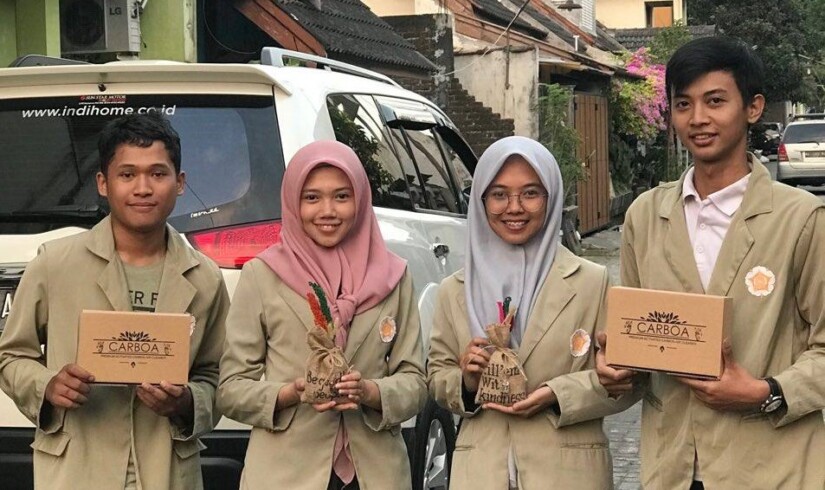 Air contains invisible particles that can give either good or bad effects to living beings. The particle that has negative impact is called as pollutants. According to the World Bank, Indonesia is the third highest polluting country in the world.
Based on this problem, five UGM students have the initiative to utilise active carbon to absorb smells, pollutants, and other hazardous materials. The team consisting of Widi Kurniawati, Anggita Rahma Adriani, Savira Putri Utami, Rayhan Samtsaqif Nirwana, and Rais Nur Fuadi named this product as Carboa.
Widi said the popular products known by the people nowadays were actually odour neutralisers that work by emitting other fragrances to disguise the previous odour. "In other words, the product works by adding other dominant substance to the air," she said.
According to Widi, this would not resolve the impact brought on the living beings but add on other impacts instead, which is not the case with Carboa. "Our product works by absorbing the odour so that the surrounding air becomes fresh and clean. This product can also absorb poisonous substances, heavy metals, excess humidity, excess CO2, and smokes," she said.
Savira added the material for making Carboa was pure active carbon. Active carbon is porous substance with wide surface area so it can catch particle molecules. Surface area of active carbon is around 500-1500 m2 with capacity of absorption up to 25-1000% of the weight. "There is not additional chemical substance in the Carboa, so it is environmentally friendly," she said.
Rayhan explained, Carboa was packed in rustic premium design, ornamented with dried flowers, pine seeds, and wood slices. On the gunny sack motivational words are inscribed according to the wishes of the buyers. "We are aware that customers not only see the function of the product but also the packaging," he concluded.