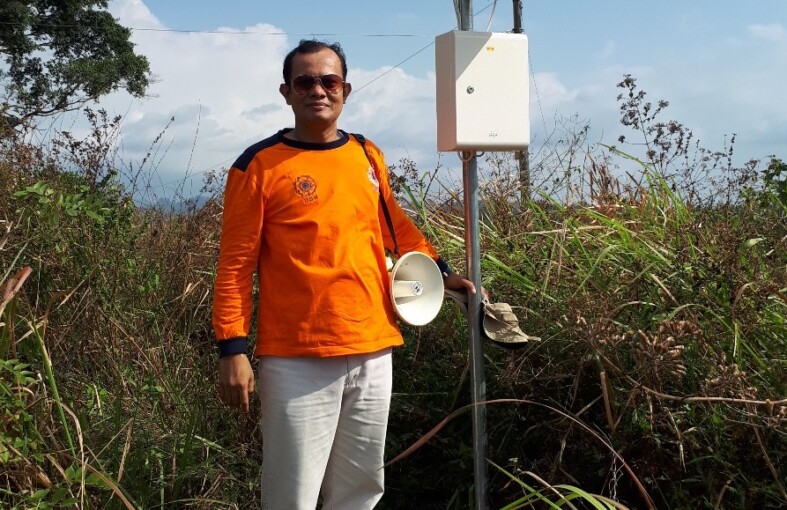 Pancasila Ideology Education Agency (BPIP) has declared 74 persons as Icons of Pancasila Appreciation 2019, based on criteria in science and innovation, sports, arts and culture, creative works, and socio-entrepreneurship.
These icons have the task to socialise the values of Pancasila and they are actively engaged in the media to create positive views and be the inspiration for the young generation.
One of the 74 icons is Prof. Ir. Teuku Faisal Fathani, S.T., M.T., Ph.D., IPM., Civil Engineering and Environment lecturer at Universitas Gadjah Mada (UGM). He has been selected by the BPIP for the landslide early warning detection innovation.
The man born in Banda Aceh, 26 May 1975, started innovating the tool since 2006. Up to this day he has produced 35 variants of tool, including the Gadjah Mada Early Warning System (GAMA-EWS), in addition to 5 patents.
GAMA-EWS that is connected with telemetry system (SMS, GSM, Radio Frequency, WiFi and Satellite) has been installed in over 110 regencies/municipalities in 32 provinces across Indonesia and Myanmar. The technology is used by government and foreign or domestic industry, such as PT. Pertamina Geothermal Energy, PT. Medco International, PT. Freeport Indonesia, PT. Geodipa Energi, PT. Inco Sorowako, PT. Arutmin, and United Mercury Group-Myanmar.
GAMA EWS has saved the lives of people in various areas, including Banjarnegara (2007), Aceh Besar (2015), Donggala (2016), Lombok Barat (2016), Kerinci (2017), Gunungkidul (2017), etc.
In 2011 UGM was named by the UN-ISDR UNESCO as the World Center of Excellence on Landslide Disaster Risk Reduction for 3 consecutive years (2011-2014; 2014-2017; 2017-2020). Prof. Fathani also earned IPL Award for Success from the UNESCO 2011, Adjunct Professor from UNESCO Chair on Geoenvironmental Disaster Reduction 2018-2020, ICGdR Honorary Fellow 2017, and Excellent Research Award on Mitigation of Geo-disasters in Asia 2012.
Nationally, Prof. Fathani has earned Academic Leader (Adibrata) award in 2017 from Research, Technology, and Higher Education Ministry, National Intellectual Property Award 2016 in Inventor category from Intellectual Property Directorate General, National Outstanding Lecturer 2015 from Education Ministry, and more.
In addition, Prof. Fathani also published scientific writings in national and international journals. His works on disaster issues are a national and international reference as registered in SNI 8235:2017, ISO 22327:2018, and ISO 22328-1:2019.
BPIP considered his innovations could enhance the country's resilience in sustaining disaster mitigation by upholding national technology sovereignty in disaster issues.
Prof. Fathani said he had not expected to be selected by the BPIP, saying that this was a responsibility and mandate that he had to carry and work on to the best.