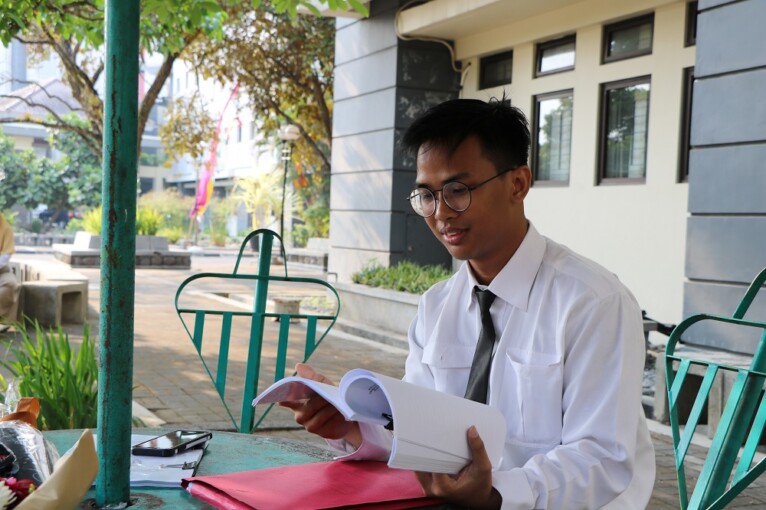 Life with hearing disability is not a hindrance for Muhammad Erwin Althaf (24) to get education. Currently, Althaf has just finished his final examination to get an undergraduate degree in Animal Sciences at Universitas Gadjah Mada (UGM) on Tuesday (18/9).
He explained his thesis related to the effect of the addition of black cumin waste to consumption and digestion of Merino sheep. During the exam, he was assisted by UGM students who wrote down the question raised by the lecturers. Althaf responded to by typing the answer which was displayed on the LCD.
After the examination, Althaf said during his course of study he had not met any major issues and he had been helped by his fellow students. He was able to understand what the lecturer was explaining. He would find it difficult only when the material was not described visually or the materials were different from what was on Power Point. Through mobile texts, Althaf said he had once felt inferior compared to others, because he earned a D grade while others did not.
Althaf, the son of Dr. drg. Edi Sumarwanto, MM., MH.Kes and drg. Eny Rusdaningsih, Sp.KG., experienced a partial hearing disorder since birth. He can only hear high decibel sounds such as car horn sounds or hand clap sounds or noises. The man born in Semarang, 30 Januari 1995, revealed he had once been rejected by a primary school due to his disability, thankfully a private school finally accepted him to study there.
Since a young age, he had been examined by doctors. They concluded that Althaf only had limitations in his hearing, not other things. Hence, he went to regular schools in Semarang and high school in Yogyakarta. He always earned good grades, even finally admitted at UGM without an entrance test.
According to Althaf, everyone including people with disabilities can make achievement and contribution, even become successful. With persistence, determination, and hard work, he believes they can reap good results. "Limitation is not a barrier to achieve success," he said. Upon graduation, Althaf plans to continue with his master degree.
Currently there are 14 students with disabilities studying at UGM. UGM's Head of Public Relations and Protocol, Dr. Iva Ariani, S.S., M.Hum., said UGM committed to paying attention to the rights of the disabled students so they can study well. UGM is trying to achieve this by providing accessible building and facilities for the disabled. The teaching is also disabled friendly or inclusive which allows them to study together with their fellows. The lecturers are also trained on how to address such limitations.
"Disabled students at UGM are not treated differently from other students," she said.
Even so, Iva said not all learning at UGM has already addressed the need of the disabled. Thus, through a Working Group, UGM tries to formulate a special learning method that can accommodate these students. In terms of service, Iva said, UGM gives services designed to accommodate information requests from the disabled students, such as staff that know sign language.
"There is no Disabled Services Unit as yet, but in 2020 there will be one," she added.
UGM also has a Student Unit for the Disabled that gives positive impacts to them. It facilitates the needs of the students.