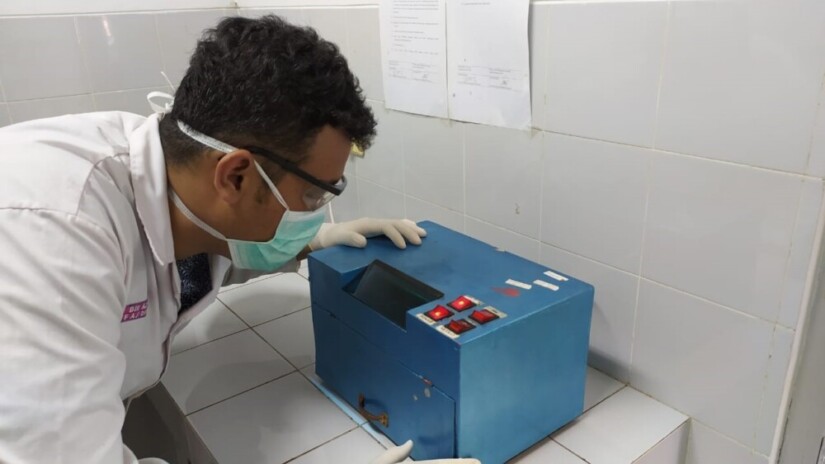 UGM Faculty of Pharmacy conducted personal protective equipment (PPE) quality testing service to provide a sense of security on supporting the prevention and handling of Covid-19. They managed quality testing service on some personal protective equipment such as masks, clothes, goggles, face shield.
This PPE quality testing service program is significant and always synergizes with the scope of the DIY Province Covid-19 Task Force in the Field of Occupational Safety and Health. At the task application, the service program of tool quality testing was organized by the Advanced Pharmaceutical Sciences (APS) Laboratory.
Dr. rer nat. Endang Lukitaningsih, M.Sc., Apt., as Vice Dean for Research, Community Service, Cooperation and Alumni, UGM Faculty of Pharmacy, said that the testing of personal protective equipment used a test for screening. It also used for checking for fluidity adapted from the American Association of Textile Chemists and Colorists (AATCC) 42 Water Resistance. This protocol is based on the mode of Coronavirus transmission, which is known that it is transmitted through small droplets that the patient expels when sneezing or coughing.
"In the test found in some parts of PPE such as stitches, neck area, and the PPE buttons are found holes or pores that possibly cause fluid transmitted to inside PPE. This situation is certainly risky for allied health who use it because it has the potential to be infected. "The results of our tests are presented in the form of a percentage of translucency, other problems related to personal protective equipment, and recommendations," said Endang Lukitasari at the UGM Faculty of Pharmacy on Tuesday (12/5).
Endang said the academics of the Faculty of Pharmacy UGM helped to undertake the quality inspection of PPE to ensure safety when used by medical and health professionals in dealing with Covid-19 infections. In this testing activity also involved several stakeholders.
"We are working with several stakeholders to examine PPE samples that will be used by medical and health professionals. This attempt is essential as an effort to prevent and manage Covid-19 infections," she explained.
Author: Agung Nugroho
Translator: Natasa A