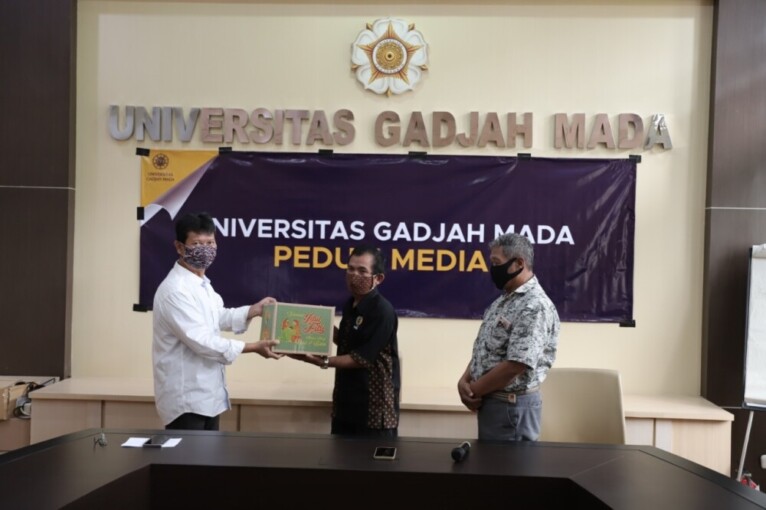 Universitas Gadjah Mada (UGM) showed appreciation for the caring and the work of journalists during the Covid-19 pandemic. This form of appreciation revealed in the provision of 150 food packages for journalists from the Indonesian Journalists Association (PWI) Yogyakarta and the Gadjah Mada Campus Journalist Forum (Fortakgama).
The aid package assigned by the Secretary of the Chancellor, Gugup Kismono, Ph.D., to the Secretary of PWI Yogyakarta, Drs. Swasto Dayanto and Agus Utantoro from Metro TV as representatives of Fortakgama.
"This is a form of UGM's concerns for the media relatives which every day has a risk in its coverage," said Gugup on Tuesday (5/19).
He added that during the Covid-19 pandemic, the role of journalists is vital in warding off various hoax news in the community. Thus, social support and psychological consultation are also required.
"Social capital in helping all who need it is either essential. UGM has also received support from partners during the pandemic. Hopefully, this help could be useful," he added.
The Secretary of PWI, Swasto Dayanto, expressed his gratitude for UGM's concern for the media in today's difficult times. He admitted that he was facing difficulties in terms of journalism and the company's economy in recent times.
"The company's revenue also drained dramatically. Interviewees are often difficult to contact. UGM support is a blessing for us," said Swasto.
In line with that, Agus Utantoro agreed that the support from UGM represented a long-standing sense of affiliation between UGM with journalists.
In addition to the aid of food packages, UGM previously also provided its supports in the form of hand sanitizer distribution to journalists.
Author: Satria
Photo: Firsto
Translator: Natasa A