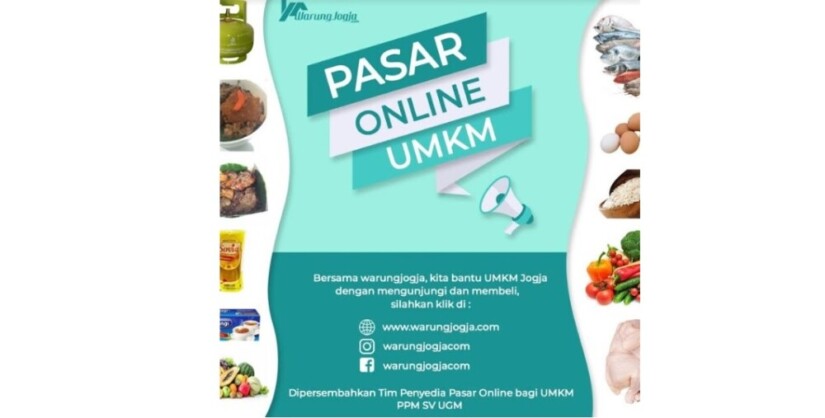 UGM Vocational School (SV) through Community Service (PkM) activities facilitates the creation of an online shop for Micro, Small, and Medium Enterprises (MSMEs). The online shop launched as a form of support for the government in undertaking New Normal life schemes.
Faiz Zamsani said that people could access the online shop at warungjogja.com and through Facebook and Instagram. The online shop aims to minimize crowds and direct contact between sellers and buyers, thereby preventing the spread of COVID-19.
Not only that, but the online shop also intends to be always able to revive MSMEs and help the Yogyakarta residents in meeting their daily needs. One of them is that exhibiting transacting online to minimize activities outside the home.
"Warungjogja.com is a platform to provide information on the existence of MSMEs that provide daily needs around the place of residence. Using this platform means that you have also supported MSMEs itself," explained one of the warungjogja.com developers on Tuesday (2/6).
The platform development was carried out by Faiz and his team, who were lecturers from the Department of Economics and Business (DEB) and Lecturers from the Dept. Electrical and Informatics Engineering (DTEDI) and Dept. Health Information and Services (DLIKES) SV UGM. In particular, this online shop facilitates unpublished online MSMEs in the Jogja region. MSMEs that are incorporated are the ones that sell ingredients such as food, gas, mineral water, snacks, market snacks, fruit, side dishes, vegetables, meat, fish, frozen food, multivitamins, and supplements/herbs.
He said that with the availability of MSME sales information, the public could directly communicate with the sellers on the website information by contacting them via contact (WhatsApp) and could see the stall location from their respective homes. Yogyakarta residents can officially access the online shop starting on Tuesday, June 2, 2020. Meanwhile, MSMEs who are interested in informing their products can also register through the admin contact provided.
Plt. Vice Dean for Research, Community Service, Alumni, and International Relations SV UGM, Dr. Silvi Nur Oktalina, S.Hut., M.Sc., said that many of the Community Service Programs for 2020 directed towards the Covid-19 response. One of them is the creation of an online marketplace under the name warungjogja.com.
According to her, this activity is very strategic in connecting producers and consumers to transact without having to leave the house to help reduce the risk of the spread of Covid-19. Warungjogja.com also aims to support MSMEs in the Jogja market the products produced so that the economy continues to run.
"Big thanks to Mr. Faiz Zamzami and the team who have prepared this online shop for all Yogyakarta residents. To all Jogja residents, please take advantage of this facility to make transactions so that they can cut off the spread of Covid-19. May Allah SWT loves all our good intentions and keeps all Jogja residents healthy so they can always do their responsibilities," she explained.
Head of the DIY Cooperative and Small and Medium Enterprises (Diskop UKM) Office, Srie Nurkyatsiwi, appreciated the launch of this online shop. He hopes that warungjogja.com can synergize with SiBakul created by Dinkop DIY to develop a system with MSMEs related to their coaching while maintaining the quality and continuity of the products sold. Hopefully, the synergy between UGM and Diskop or the government will continue to run well to become a solution for food security and regional economic security during the Covid-19 pandemic.
Author: Ika
Translator: Natasa A