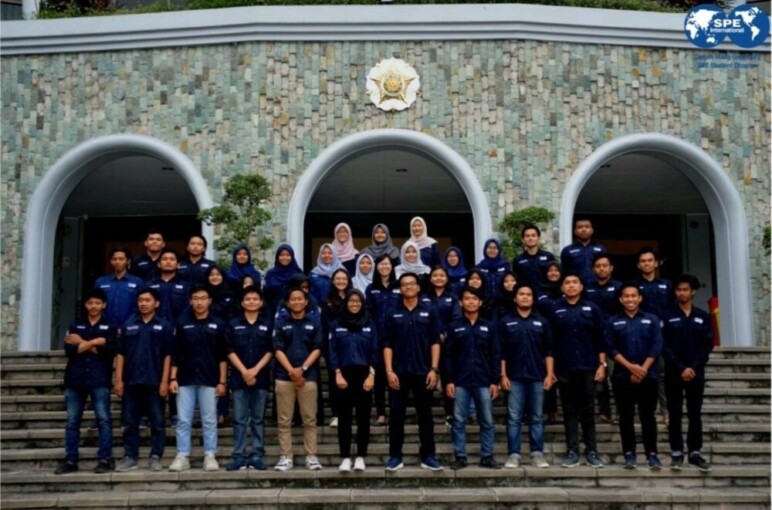 Universitas Gadjah Mada's Society of Petroleum Engineers – Student Chapter (SPE UGM-SC) won an award as the 2020 Student Chapter Excellence Award. In this International Society of Petroleum Engineers (SPE), there is only 20% of student chapters from around the world with annual report assessments submitted by each student chapter. Therefore, this award certainly triumphs some parties.
Handika Lazuardi, President of SPE UGM-SC in 2019/2020, said that SPE UGM-SC won an award after competing with 411 student chapters from around the world. The award assessment determined on the organization's work program for a year which includes industry engagement, operations and planning, community involvement, professional development, and innovation from the organization's programs.
"There are several plus points in the report submitted by SPE UGM-SC this time including work program innovation, an increase in the number of members by 82 per cent, and an increase in the intensity of the training program. There is management from various departments. They are chemical Engineering Department, Faculty of Engineering and Geophysics, Faculty of Mathematics and Natural Sciences which incorporated in this team is one of the factors driving the creation of work program innovations that benefit members," said Handika, at UGM Campus on Thursday (6/25) ).
Nirwan Ashari, Geophysics study program student, FMIPA UGM 2017, added that the award obtained this time was for the management of SPE UGM – Student Chapter 2019 period. The team management consisted of 3 departments, namely Chemical Engineering and Geological Engineering, Faculty of Engineering and Geophysics from FMIPA UGM.
"This is an annual competition to assess the performance of each chapter with the following parameters: Industry Engagement, Community Involvement, Planning and Operations, Innovations, and Professional Development for one year of management," he explained.
There was also an application assessment for industry engagement or interaction between students in the context of UGM SPE boards and Industry. For example a company visit by inviting professionals from a company to be a speaker in a course/guest lecture/seminar.
"Also cooperation in the form of sponsorship or as a judge in our annual event which is at least Asia-Pacific scale," he added.
Then the assessment in terms of planning and operations, said Nirwan, how SPE UGM designed and executed programs that were effective, relevant, and able to benefit Boards and their members for one year of management. Not only related to the preparation of the work program timeline at the outset. But this the assessment also positively related the way on its implementation.
Furthermore, the parameter of community involvement is based on how the SPE UGM can have a good impact on a community / social environment, at least for Jogja and its surroundings. In 2019 SPE UGM planted 200 mangrove seedlings along the Baros Beach, Bantul, SPE Goes to School line to socialize energy material to elementary students around Baros Beach and carry out a blood donation program in collaboration with Dr. Sardjito.
"For professional development, the parameters assessed are how well the preparation of SPE UGM for its Boards and Members to be ready to enter the Industry. They will see how great it will be after graduating from the lecture world through various pieces of training filled by former SPE UGM who are currently working in the Indonesian Industrial World. Specifically in the field of Oil and Gas," said Nirwan, who now serves as President of the UGM-SC SPE in 2020/2021.
Nirwan added that for the last parameter, innovation, the points shown were how capable the UGM SPE was innovating through its programs by the latest developments. These programs certainly look at the various problems that exist in the community so that they have an adaptive ability for their boards to be able to develop each year.
"So, if the UGM SPE has been named as the 20 per cent of the best student chapters because it can apply these parameters," he added.
Nirwan hopes that SPE UGM can maintain this award the following year. Moreover, being able to rise again to the highest level of appreciation, namely SPE International, to be able to make UGM proud in the international arena.
"We also hope to be more intense in interacting with the campus so that our planned programs can also get support from the campus, especially in funding. Because, since the SPE UGM established, there has been no special allocation of funds given both from the faculty and from UGM," he hoped.
Ir. Salahuddin, ST, M.Sc., Ph.D., IPM as the supervisor said that the Society of Petroleum Engineers (SPE) is a global-scale non-profit organization founded in 1957. It is more than 150 thousand professional members from 143 countries consisting of engineers, petroleum, scientists, researchers, and industrial management. SPE also reaches the young world generation through 411 student chapters with 69 thousand members.
According to him, the student chapter that successfully carried out the SPE mission for its members deserves to be awarded (Student Chapter Award). The award proposes for each student chapter who always involved with the oil and gas industry, has the skills to run an organization, perform social services, foster professional attitudes and performance that results in innovation.
"The Student Chapter Award is given annually to 25 per cent student chapters from around the world. I saluted the UGM SPE Student Chapter for the hard work of 57 members during 2019 and managed to enter the Excellence rank," he said.
Author: Agung Nugroho
Translator: Natasa A