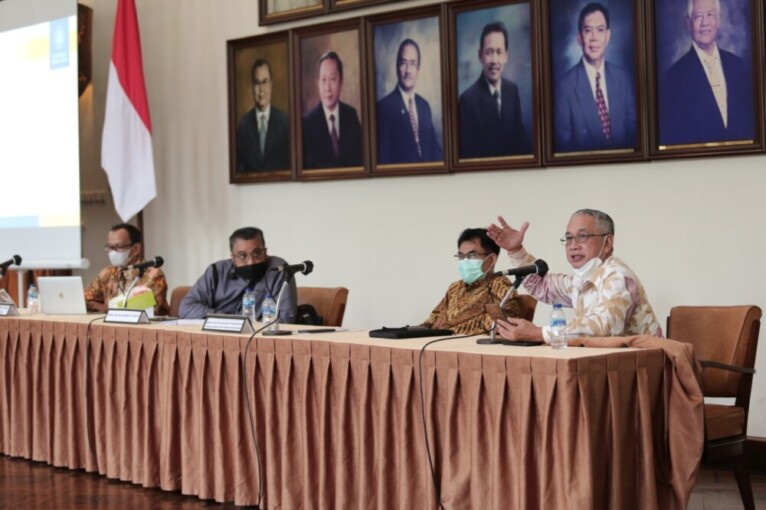 The working committee of psychological practice's bill of Commission X, House of Representative of the Republic Indonesia (DPR RI) visited UGM to reconsider the inputs from UGM and other universities in DIY concerning the psychology practice's bill on Monday (5/4). The head of the team, Dr. Dede Yusuf Macan Effendi, ST., M.I.Pol., revealed that this input would soon be taken into account as a consideration in discussion with the Ministry of Education and Culture, the Ministry of Health, the Ministry of Social Affairs, and the Ministry of Law and Human Rights. The aspiration and input from stakeholders are highly important to further discussion, including from UGM.
"We are open and very pleasant with the comprehensive input concerning psychology practice's bills," he said in the UGM Senate Hall.
UGM Chancellor, Prof. Ir. Panut Mulyono., M.Eng., D.Eng., IPU., ASEAN eng., expected this meeting could result in a solid conclusion to fasten the bill's passing process by the working committee in providing the community a legal guarantee concerning psychology practice in Indonesia. Panut added that it was considered important to give people security of service quality. On the other hand, Prof. Faturochman, as the Dean of UGM Faculty of Psychology, also conveyed a few points that were necessary to be corrected in the psychology Practice's bills. One of which is in the field of education. He pointed out that there is a mismatch between the education law and the policy of its offspring. In fact, this bill should not restrain the advancement of scientific knowledge and academics.
"The scope of psychology practice contained in article 27 paragraph 2, especially the psychology program's activities in article 11 paragraph 2, is too broad. Tri Dharma activities of higher education conducted by faculties, departments, or psychology study programs have the potential to be shackled if this bill is passed," he explained.
Besides, he also delivered his objection to article 28 regarding the obligation to take the competency test and article 29 paragraph, in 1a (for non-professionalism) because professional examiners will be grouped into S1, S2 Science, and S3 study programs. This condition implicitly showed that there was distrust in psychology education.
Additionally, he also revealed issues concerning professional organization. In the psychology Practice bills, there were a few articles that should be revised. One of which concerns the absolute authority making for the HMPSI to form more proportional authority. Next, there was also a concern about technological information. Faturochman said that psychology practice could not improve if there was no improvement in science, technology, and other sciences. Meanwhile, within this bill, there has been no further forethought to it.
"Moreover, a concern in chapter 4 concerning foreign psychology. Is it possible to control foreigner's activities if they use unlimited information technology?" he said.
Furthermore, there was also input from Dra. Siti Urbayatun, M.Psi., Psi., as Forkom Faculty of Psychology Study Program Yogyakarta (AP2TPI Yogyakarta) regarding the consistency of the term used in university products within the bill to prevent confusion. Then, there should be an outline formulation of the authority limits between psychologists, practical psychologists with special skills, assistant psychologists, and psychology practitioners. She also added concern about the quality assurance that there should also be a standard competency for people to conduct psychology practice starting from competency test for psychology graduates until post-graduation during professional practice implementation. The implementation of post-graduate competency tests is later submitted to each existing interest association.
Finally, the registration certificate and practice license issue seem more solid if the local government becomes the one who proffers it. Nonetheless, there should be recommendations from professional organizations.
Author: Ika
Photo: Vino