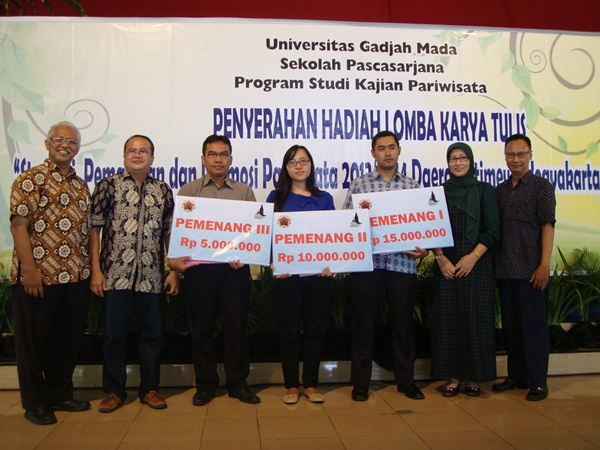 Yogyakarta has a great deal of potential in tourism. Unfortunately, promotion and marketing of Yogyakarta's tourism has not been optimal. According to Soni Wicaksono, marketing chief of PT. Taman Wisata Candi Borobudur, Prambanan and Ratu Boko (TWC), development of Yogyakarta's tourism is still open, not only for foreign but also domestic market.
"Yogyakarta has a big potential to be developed through the right promotion strategy," said Soni during prize presentation of paper writing contest entitled Marketing and Promotion Strategy of Tourism in Yogyakarta and surroundings on Wednesday (29/5) in PKKH UGM.
In line with that, Tourism Study Programme in S2/S3 level of UGM as an institution that administers education for tourism researchers and practitioners always develops itself and is dedicated to the state's progress by educating the nation and improving people's prosperity.
On way to do this is through the hosting of the paper writing contest, supported by PT. TWC, to build common understanding of shareholders in order to establish cooperation.
"By exploring tourism potential and marketing in Yogyakarta, it is expected the potential can increase, hence tourists visiting," said chairman of the contest, Drs. Tri Kuntoro Priyambodo, M.Sc.
The contest is joined by 70 practitioners, observers and students. Winners are Anjas Prasetiyo, Agitha Binar Arshapinega and Legowo, winning prize money respectively Rp15, Rp10 and Rp5 millions.