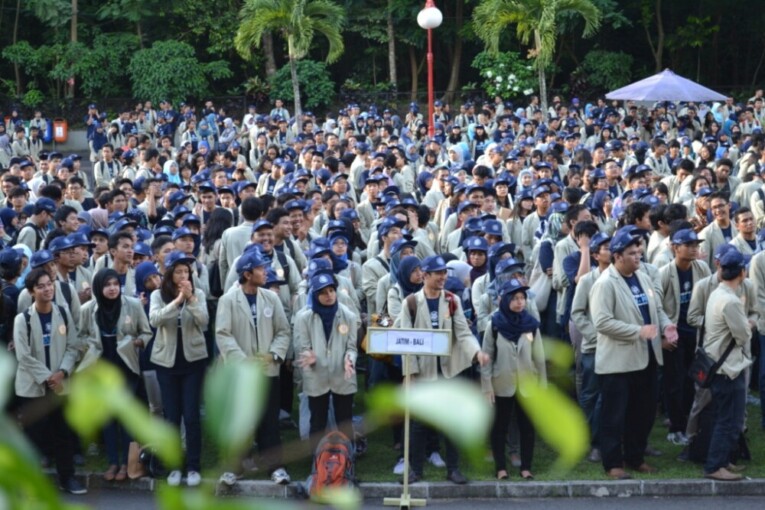 YOGYAKARTA – A student's life is not only lived on campus but also outside in the form of Student Community Service –Community Empowerment. According to Rector of UGM, Prof. Dr. Pratikno, M.Soc., Sc, this is a form of 'journey' in order to get a sense of humanity, social awareness and knowledge exploration from local community. Pratikno was giving a briefing to as many as 5,107 students who will start the student programme on Friday (28/6).
Pratikno said for two months students dedicate their time and work with communities. This time, the students are asked to put their activities into manuscripts, photos and videos to explore the local knowledge. "We will publish them all," he said.
Through what Pratikno says as Gadjah Mada channel, student's works will be presented. He said the production of knowledge is part of UGM realisation that defines itself as university of people. "It's not that we provide a site for street food sellers but to dedicate the knowledge for people through the community service programme that is aired in a UGM special channel. People can learn from the knowledge produced by the students," he said.
Meanwhile, Pratikno appreciated the students who had opted their programme in the remote places of Indonesia such as Kalimantan, Papua, Maluku and the far end of West Sumatera. Vice Rector for Research and Community Service, Prof. Dr. Suratman, M.Sc., said this time up to 5107 students of joined this programme, assigned to 22 regencies. It will run from 1 July – 30 August.
Students will carry 13 themes when on the site, including critical environment management, renewable energy development, women empowerment and politics and law awareness.