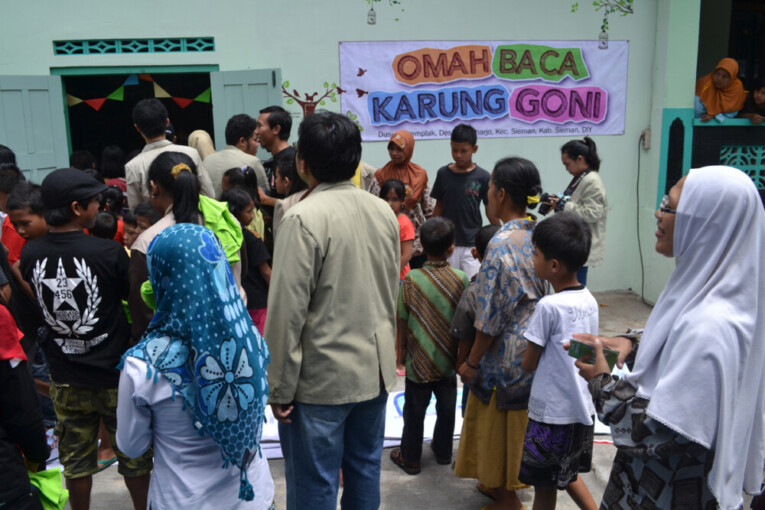 YOGYAKARTA – UGM students who live in the UGM dormitories have established a reading library called Omah Karung Goni in Ngemplak hamlet, Sleman regency on Sunday (19/1) The opening is marked by the inauguration of 7 committee members by head of Sleman sub-district.
Tien Simbolon, one of the students, said the library procurement is one way to motivate children in studying at school. "We wanted to motivate dropout children here to get them encouraged and willing to return to school," said Tien.
The library founded at the house of the head of the hamlet provides over 1,000 books in the form of children story books, novels, science books and religion books. "These books are donated by students, society organisations, and Yogyakarta local library," she added.
Tien said the students also gave free medical treatment and cheap food and clothing bazaar. Hundreds of local residents of Ngemplak came to the event. "All of these activities are initiated by the UGM students who live in UGM dorms as a form of care in community service," she explained.
The head of Sleman sub-district, Iriansyah, said the Ngemplak hamlet is the only one of 17 villages in Sleman with the highest poverty rate, which is 25.3 %.
Iriansyah appreciated the UGM students who had chosen their village as their place for educating. He hoped the activity would support the poverty alleviation programme that has already been launched by the local government.
Arbuwati, 52, a resident, expressed her happiness after having been given the free health treatment, particularly that such event is rarely held in that place.