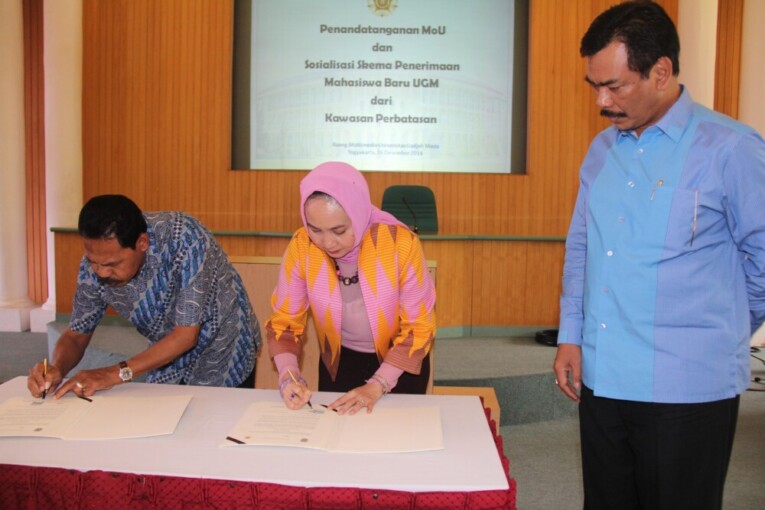 Indonesia is predicted to be a strong economic power in the world. This, however, can go wrong if Indonesia cannot make use of its demography bonus.
"By year 2020, 2030 and so on, almost 70 percent of Indonesian population are at productive age between 16 – 56 years old. Hence, we need to prepare these productive people to become excellent and competitive human resources," said Rector of UGM, Prof. Ir. Dwikorita Karnawati, M.Sc., Ph.D, in the Multimedia Room, Tuesday (16/12) during the signing and socialisation of UGM student enrollment for students from border areas. UGM is committed to meet these goals by implementing the tridharma cooperation that includes education, research and community service.
The Rector assessed that the interest of the regional governments, community or industry in border areas are urgent.
As a real step in managing the most outlaying, remote and underdeveloped regions, UGM establishes cooperation with 12 regional governments related to education, research, and community service. Attending the event were Vice Governor of Riau, Dr. HM. Suryo Respationo, S.H., M.H; Vice Regent of Sekadau, Rapinus, S.H., M.H; Economic Assistant to Regent of Natuna, Iswar Asfawi; and Head of Logistics and Staff Job Titles of Batam municipality, Usmar.

In the event, UGM Academic Director, Dr.Agr. Ir. Sri Peni Wastutiningsih, offered the various choices for the young generation to enroll at UGM for year 2015.