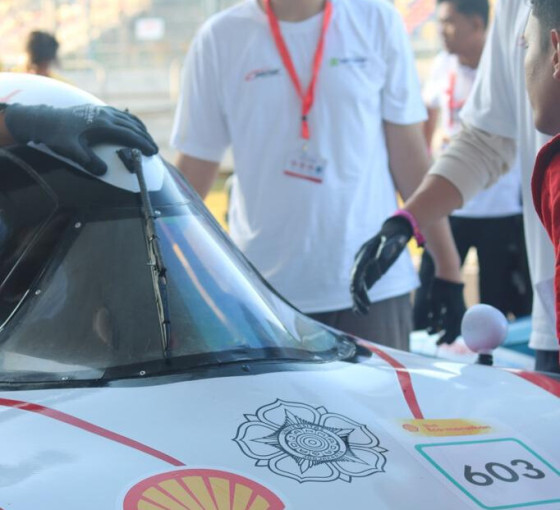 The Semar Urban Hydroz car, built by UGM students, is currently participating in the prestigious 2023 Shell Eco-Marathon, which is held at the Pertamina Mandalika International Street Circuit in Kuta Mandalika, Central Lombok, West Nusa Tenggara, from 4th to 9th July. 
This energy-efficient vehicle innovation competition is attended by 77 teams from 13 countries, including 47 teams from Indonesia, four teams from China, two teams from India, three teams from Malaysia, two teams from the Philippines, two teams from Qatar, three teams from Saudi Arabia, two teams from Singapore, five teams from Thailand, and three teams from Vietnam. There are also participants from Kazakhstan with two groups, and Brunei Darussalam and South Korea with one team each.
Reynolds Widhiyanurrochmansyach, the coordinator for fuel cell development for Urban Hydroz and a UGM student from the Department of Mechanical and Industrial Engineering, stated that Semar Urban Hydroz runs on hydrogen fuel, which is considered more fuel-efficient. 
"This vehicle utilizes advanced technology to generate electrical power through the reaction between hydrogen and oxygen inside the fuel cell," said Widhiyanurrochmansyach in a press release sent to journalists on Thursday (6/7).
"It produces pure water emissions as the only byproduct, making it a completely emission-free and environmentally friendly vehicle." 
In addition to being fueled by hydrogen, the team also conducted intensive development to optimize the aerodynamic design of Urban Hydroz. 
"Reducing drag and minimizing air friction on the vehicle's body enhances the energy efficiency used to propel the vehicle," he explained.
Furthermore, lightweight and robust materials, such as carbon fiber and aluminum, reduce the vehicle's weight without sacrificing strength and safety. 
"These materials improve energy efficiency and overall vehicle performance," he added.
The Semar Urban Hydroz team comprises dedicated UGM students who have worked hard to design and build a vehicle that combines future technology, environmental friendliness, and sustainability. 
In the fierce competition against the best teams worldwide, the UGM team aims to win one of the awards in the hydrogen fuel efficiency category.
Prior to participating in this competition, the Semar Urban Hydroz team underwent rigorous testing and simulations. They have invested significant time and effort to optimize their vehicle for the best performance.
"We are very excited about the opportunity to participate in the 2023 Shell Eco-Marathon. Our vehicle is a testament to our commitment to innovation, sustainability, and the environment. We hope to make a positive contribution to the future of environmentally friendly transportation," said Jayan Sentanuhady, the advisor of Semar UGM.
Author: Gusti Grehenson
Photo: Semar